Kumai, Kalimantan, Borneo (Indonesia) - Day 2
We were told that our cruise ship was the first to come to this region of Indonesia.  When we got off of the ship, there were many residents taking pictures of us.  We were transported today in five buses with a police escort as an honor (or at least that's what we were told).
Dayak Longhouse
We started the day with a bus tour of the city of Kumai, a port in Central Kalimantan province and the first stop was a visit to a Dayak longhouse,  Dayak longhouses are community houses and are 300 to 600 feet long. These buildings host dozens of families. The houses are built 6 to 9 feet off the ground to keep out wild animals and protect from flooding.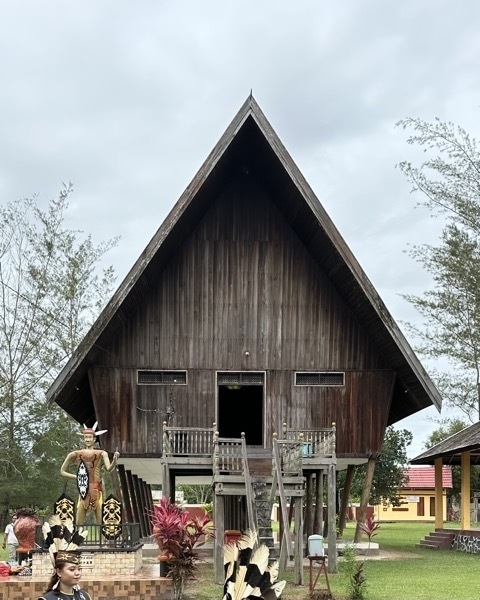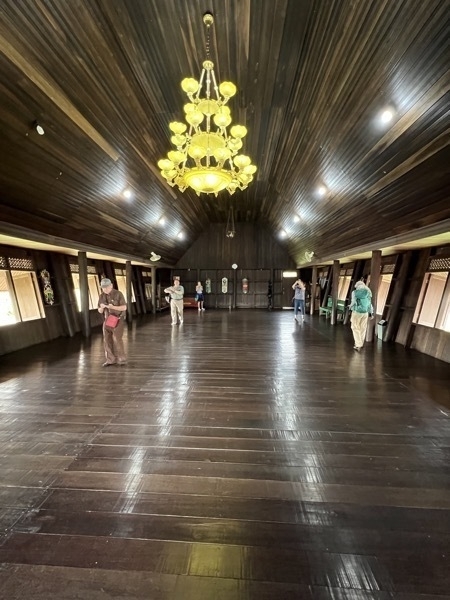 We were greeted with dancers and drummers performing traditional dances.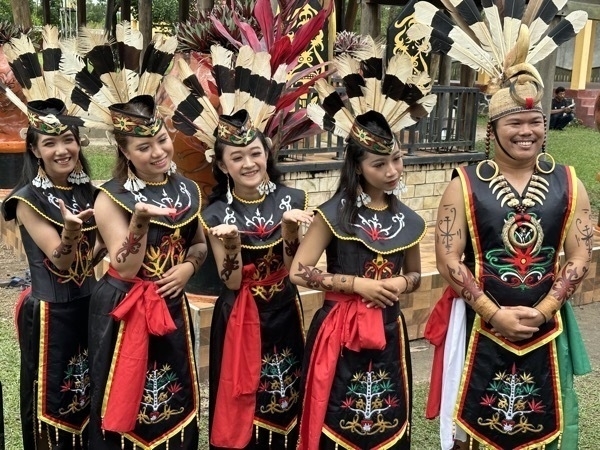 At one part of the performance a dancer pulled me into the dance to dance with her.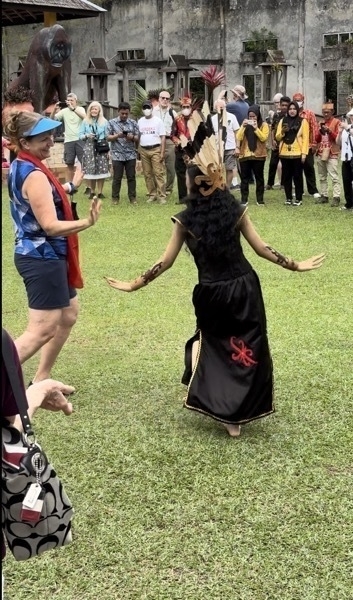 This dancer pulled me (of all people) out of the crowd to dance with her.
Arut River Tour
Our next stop was a boat ride down the Arut River to get a glimpse of local life. Here we rode past homes, fish farms, a saw mill.  A police boat escorted our boat down the river.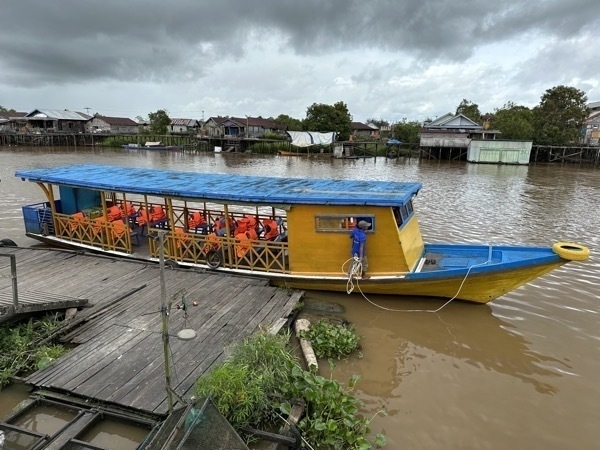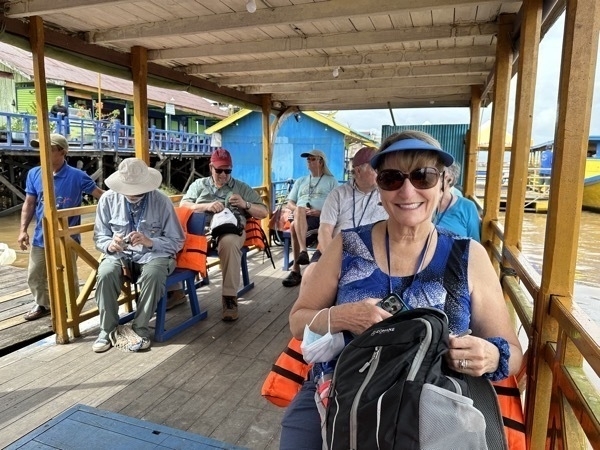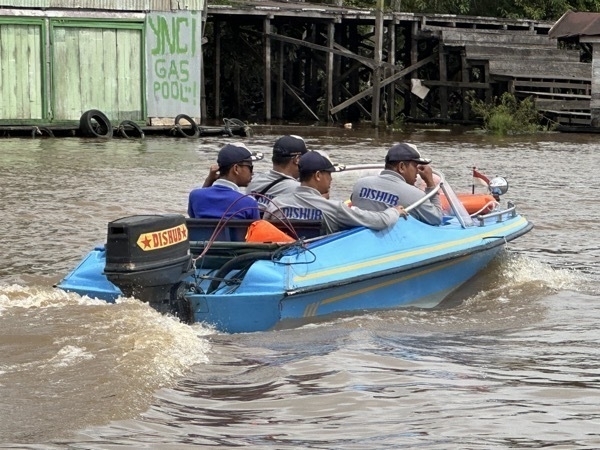 The Police who escorted us.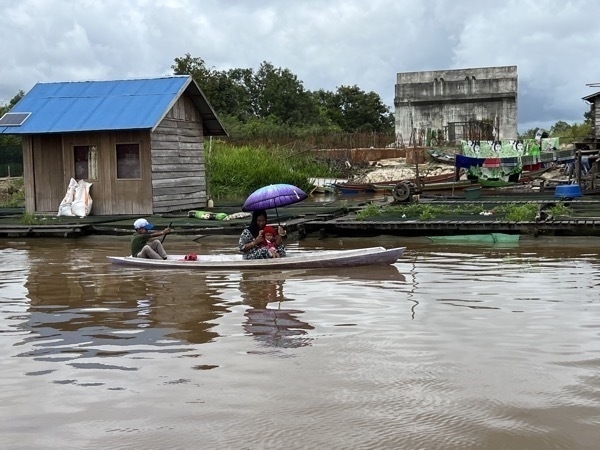 A little boy rows his mother and baby sister down the river.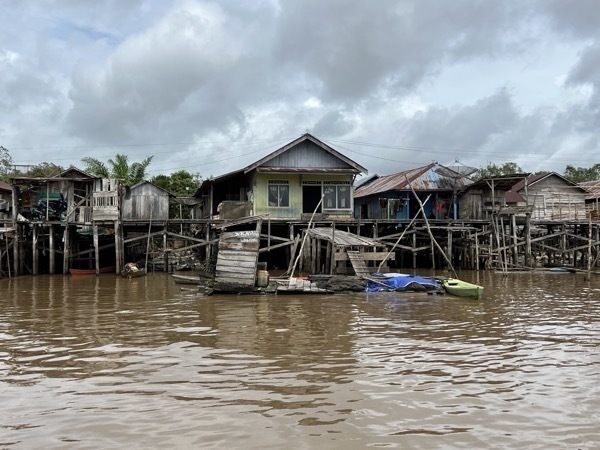 Typical homes and boats that were located on both sides of the river.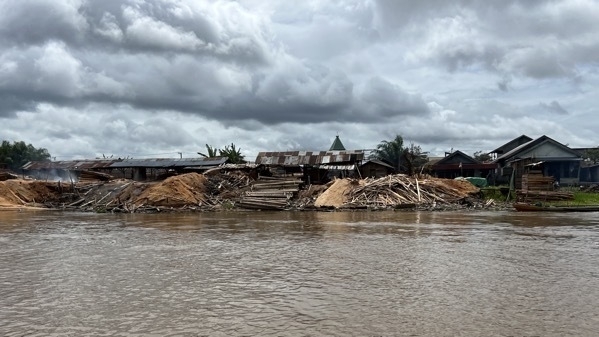 A sawmill along the river.
The Market
All vegetables, poultry, fish, etc are displayed unrefrigerated in the market area.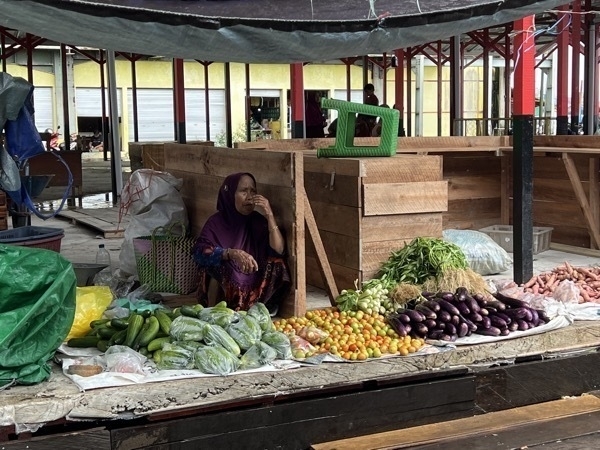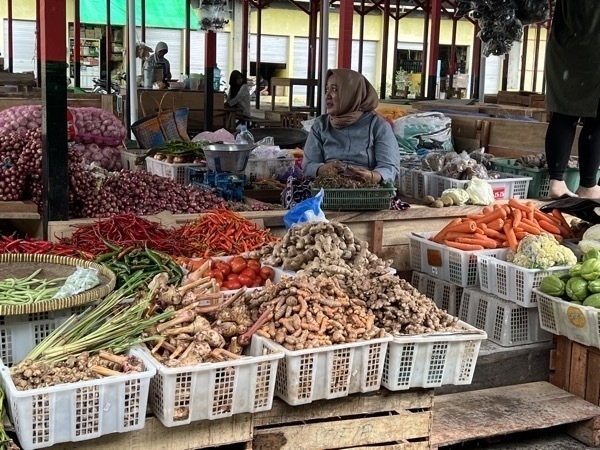 Fresh fish (but not refrigerated)
ESTANA PANGERAN MANGRUBUMI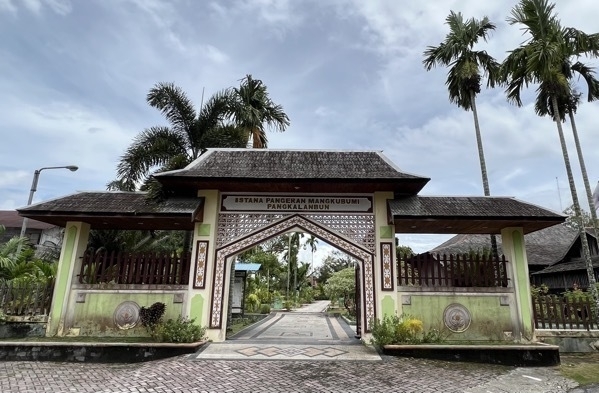 This home was built to house a Sultan's seven daughters. Inside these gates is a rambling wooden compound and a beautiful garden area.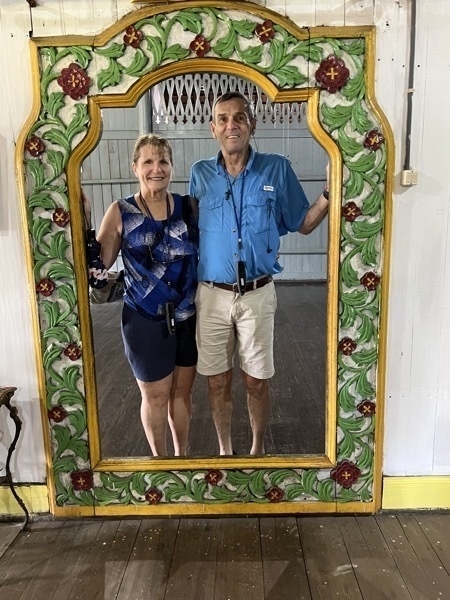 Even though this may look like a mirror, it is actually a door frame with two fancy hand-carved doors on the other side.  These beautiful doorways are all through the house.
Istanakuning "Yellow Palace"
This palace is not actually yellow, but once was the Sultan's main residence.  This is a replica of the original residence which burned in 1990.  Since we were the first cruise ship to ever stop in this city, the Sultan invited us to lunch.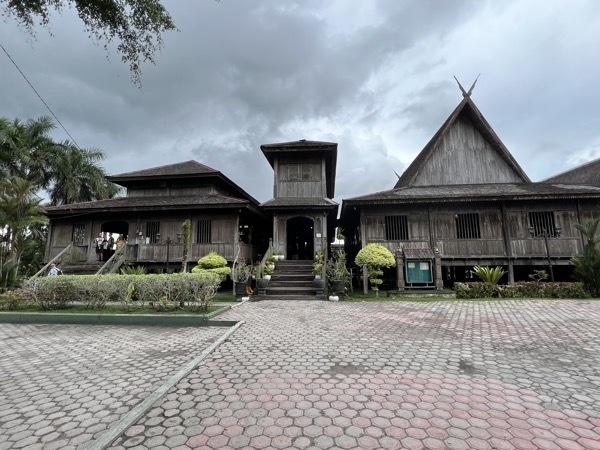 There were ceremonial dances and swords fights for our entertainment.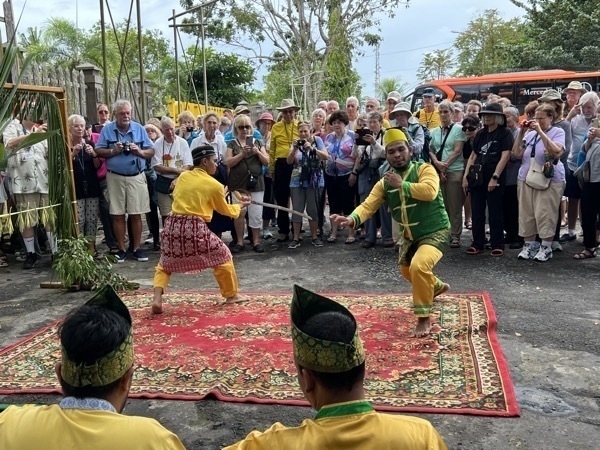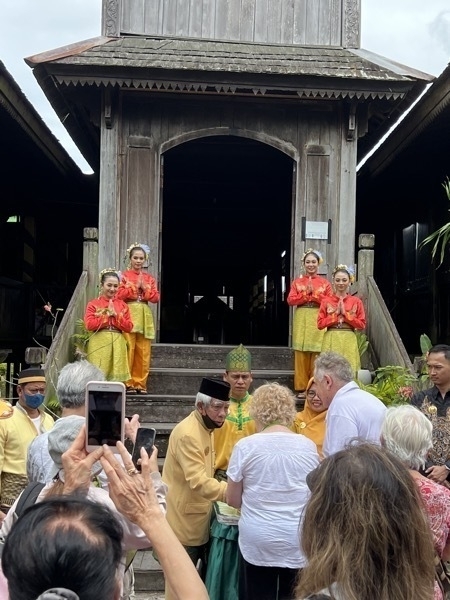 This is the Sultan's twin brother greeting us as we entered the palace.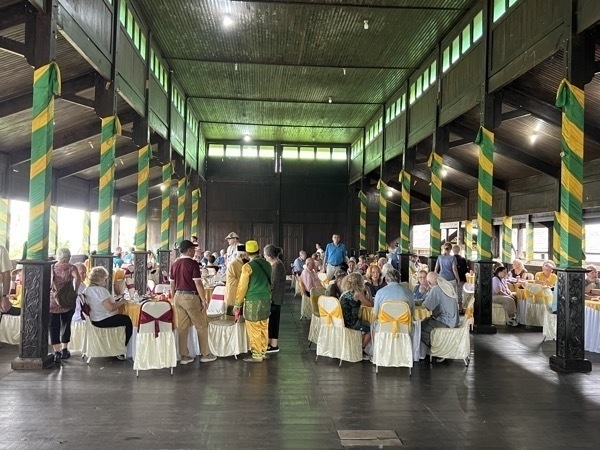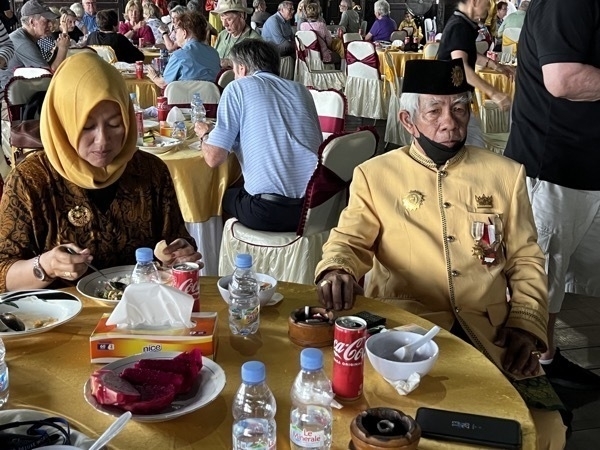 The Sultan with his personal physician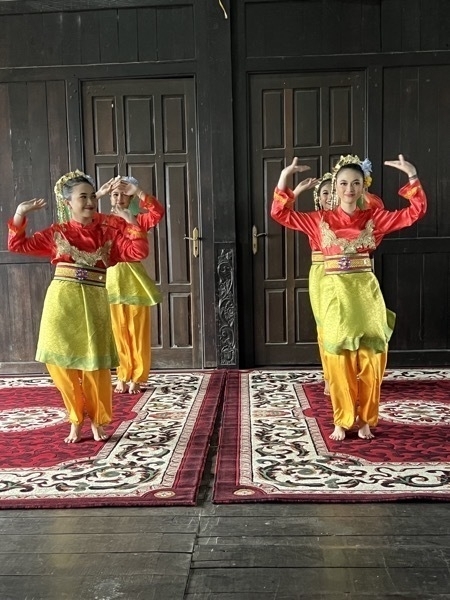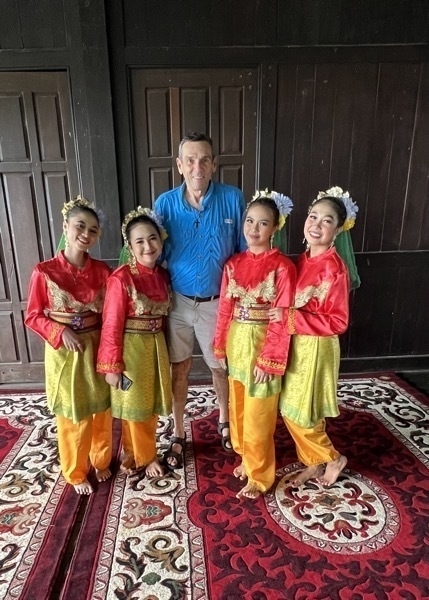 Birdhouse buildings
There is a huge industry in Borneo of bird's nest 'factories'.  There are 100s of these tall metal buildings are built to attract the white-nest swiftlet. Therir nest is composed entirely of saliva.  These nests are purchased by the Chinese and used to make a soup by soaking and steaming the nests in water. The soup is reputed to possess medicinal properties that nourish and vitalize the organ systems of the body, help increase energy and metabolism, dissolve phlegm, improve the voice, relieve gastric problems, aid kidney function, enhance the complexion, alleviate asthma, suppress cough, cure tuberculosis, strengthen the immune system and improve concentration," wrote Craig Thorburn, an environmental scientist from Australia in his research paper, "The Edible Birds' Nest Boom in Indonesia and South-east Asia." Bird's nest soup is also considered an aphrodisiac by some and an infant superfood by others that helps babies grow tall and smart.
 These nests fetch high prices and the buildings to lure the swiftlets are popping up all over Indonesia. Our ship docked near many of these buildings (pictured below in the nighttime picture) which can be quite a nuisance because of all the bird feces and the loud chirping noises played over a speaker to attract the swiftlets.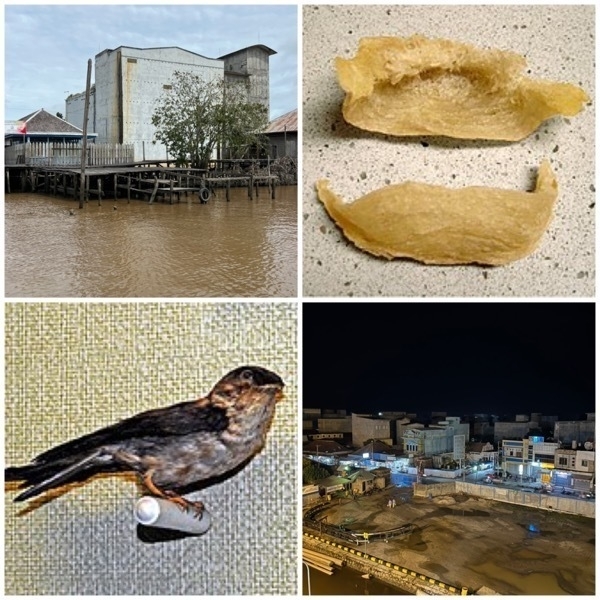 We ended the day with a delicious meal cooked we cooked ourselves on a lava stone up on deck 9 with our new friends Dave and Emmy.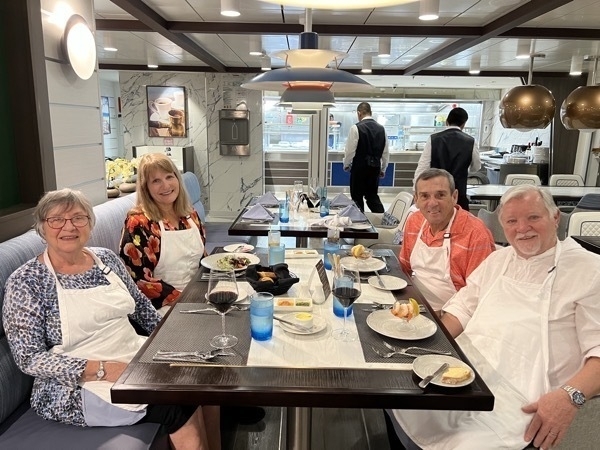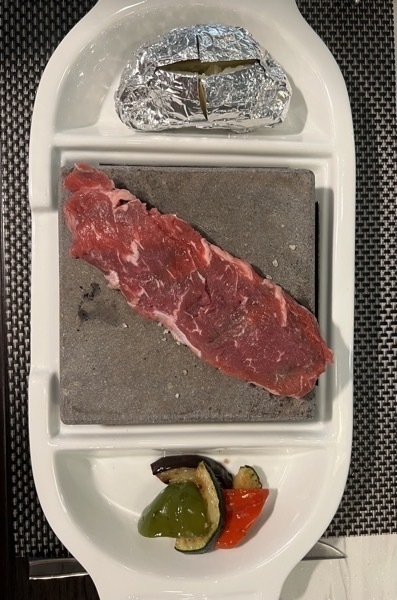 The lava stone is 400 degrees and is in the center of this platter.