And we are off on our next adventure!  This time it's a three week trip to South Africa, Zimbabwe, and Botswana,  We had so many immunizations :  Hepatitis A (two of those), Hepatitis B (two of those), typhoid, Dtap, and malaria pills.  (Plus, we both had the 3rd COVID booster and flu shot)
We boarded Turkish Airlines flight 34 in Houston at 8:50PM for a 12 hour flight to Istanbul where we had an 8.5 hour layover.  The airport is huge and contains enough shops to be a mall and many food courts as well.  We enjoyed the use of the NAP ZONE to take a nap and charge our electronics before boarding our 1:35AM flight to Johannesburg which took another 9 hour and 45 minutes. 
l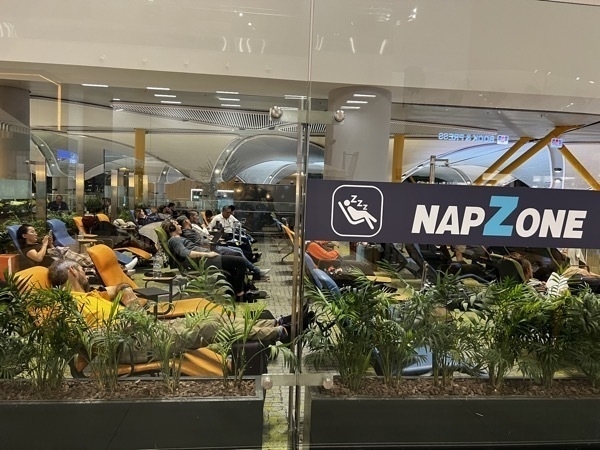 Tom is the one in the yellow shirt closest to the window taking a nap.
Johannesburg, South Africa
By the time we went through customs and got our luggage, it was noon on September 30. After a picture by these wooden elephants at the airport, we took the shuttle to our hotel.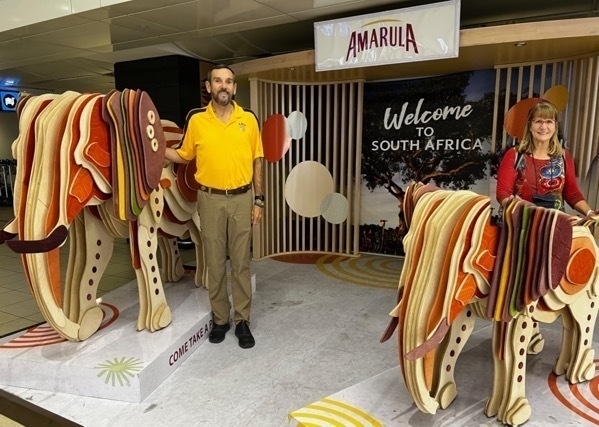 We are staying at the Houghton Hotel for the first two nights. Luckily, we were able to check in early and so we slept for about three hours before showering and eating dinner.