Kenaii Fjords National Park-our 53rd National Park
Kenai Fjords National Park
We started the day by driving from Eagle River (near Anchorage) to the entrance into Kenai Fjords National Park.  
The park contains the Harding Icefield, one of the largest ice fields in the United States, and is named for the numerous fjords carved by glaciers moving down the mountains from the ice field. The field is the source of at least 38 glaciers, the largest of which is Bear Glacier. The fjords are glacial valleys that have been submerged below sea level by a combination of rising sea levels and land subsidence. 
After our obligatory photo opportunity at the sign, we drove to the parking lot for Exit Glacier, a popular destination at the end of the park's only road.The remainder of the park is accessible by boat, airplane, and hiking.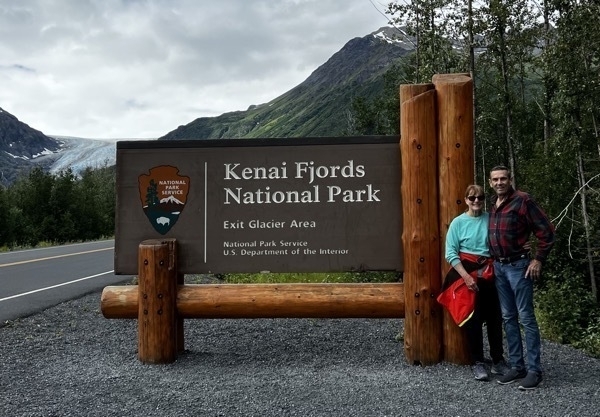 Here we are at the entrance to the park.  Notice Exit Glacier to the left in the background.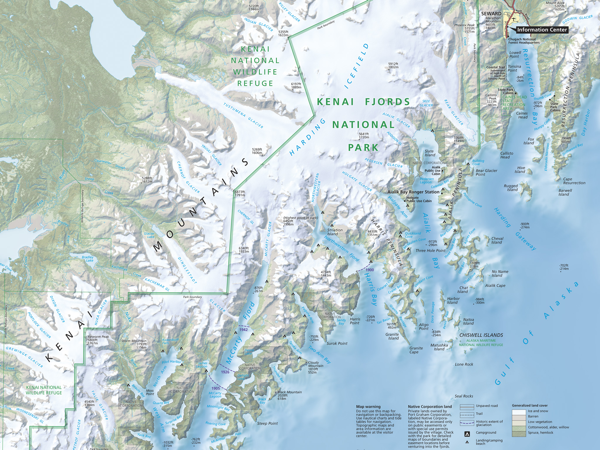 The Exit Glacier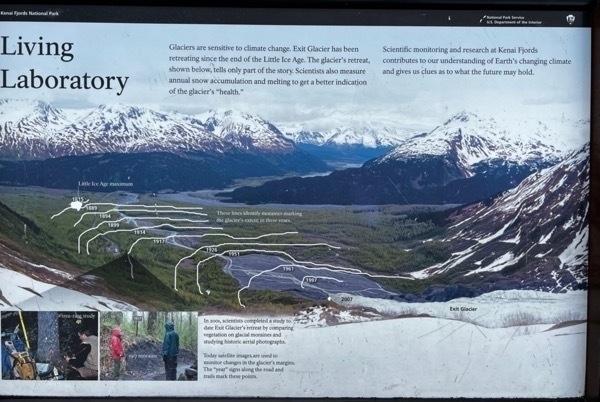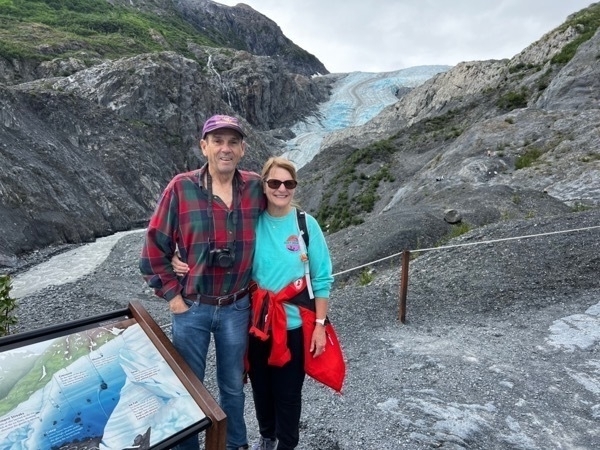 Kenai Fjords Dinner Cruise
After the hike we drove into the town of Seward to eat lunch and then boarded a Kenai Fjords Dinner Cruise.  The cruise left at 3:00 and got back at 8:30.  Along the way we saw seals, sea lions, sea otters, two eagles, a black bear, a hump back whale and an orca whale,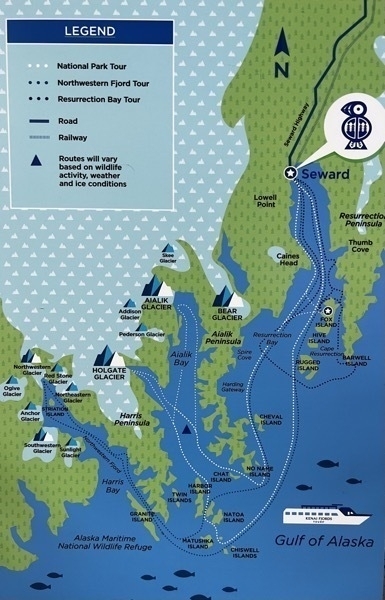 The white dotted lines mark our trip.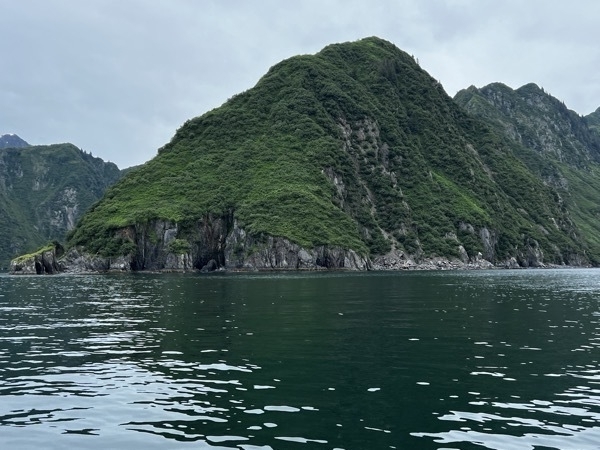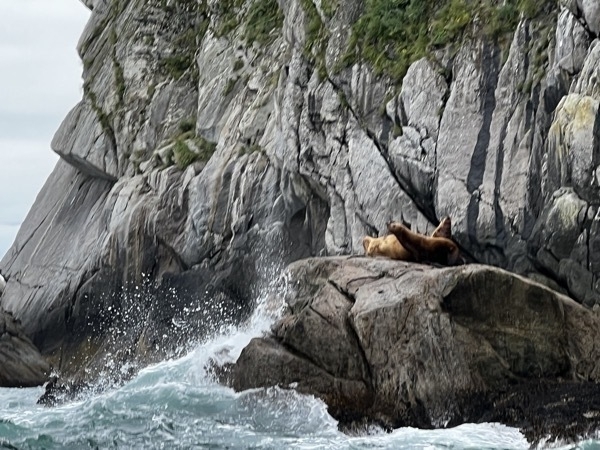 Sea lions playing on the rocks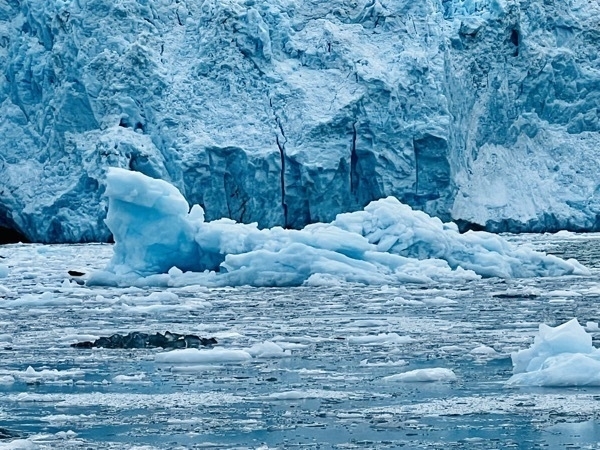 Icebergs floating close to the base of the glacier.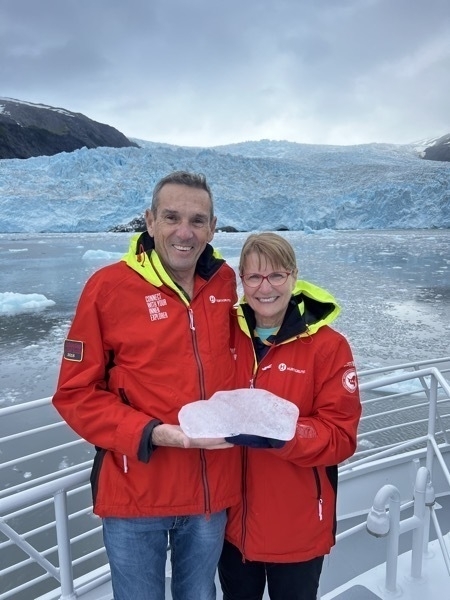 We are holding a piece of glacial ice that the guides retrieved from the water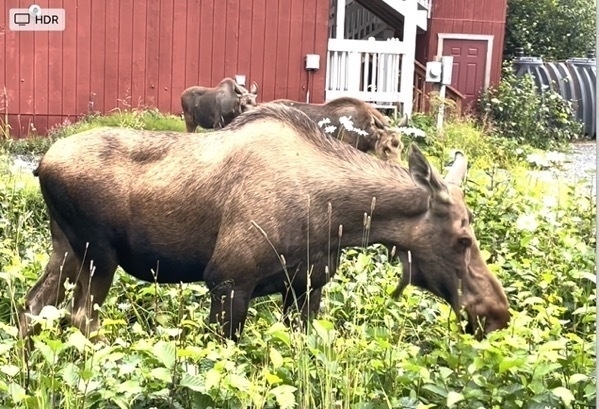 On our way to our cabin in the evening we passed this moose and her calf eating some grass in someone's yard.