Belfast, Northern Ireland
We left Lake Charles on a 7:22AM flight to Houston where we changed planes and flew to Vancouver, BC.  From Vancouver we flew to Dublin and arrived at 8:45 AM on Tuesday morning.  LONG combination of flights.  When we landed in Dublin we'd been traveling 20 hours.  
Upon arriving in Dublin we were surprised that there was no jet port to get off the plane.  All passengers had to walk down the steps and across the tarmac to get to the airport.
We rented a Suzuki from Eurocar ($754 and another $569 for insurance) and drove two hours to get from Dublin to Belfast.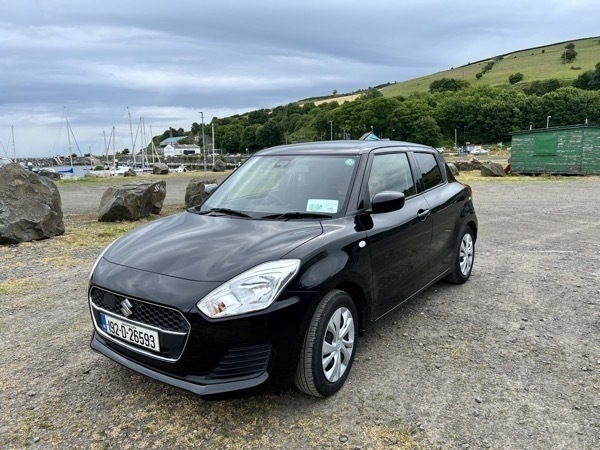 Gasoline is over $8.00 per gallon here so we are hoping it gets great gas mileage! It is really strange to drive on the opposite of the road. The windshield wiper, blinker, and gear shift are on the opposite side of the steering wheel than our cars at home..  Having said all of that, I drove the car just fine.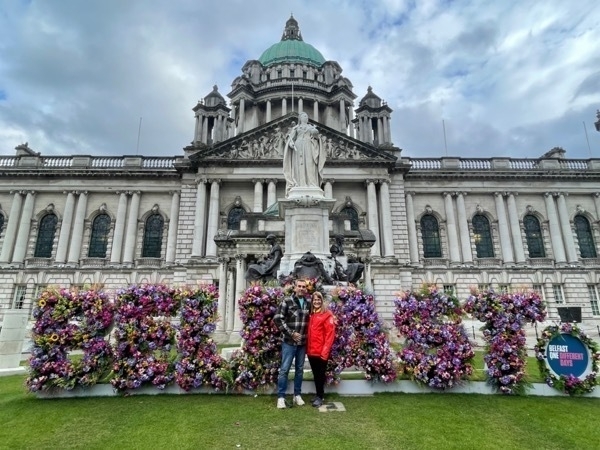 Here we are in front of the City Centre
Crumblin Road Goad
We took the Hop On Hop Off double decker tour bus ($26.45 each for two days) and got off at the Crumblin Road Goal, a prison built in 1845 and used until 1996. Initially prisoners were housed here to await transfer to other British Colonies.  Before the prison was built, prisoners were shipped to America (until the Revolutionary War), but after that the prisoners were transferred to Australia and New Zealand.  When we were in Australia in 2017 we were told that many of the earlier settlers were released prisoners from the British Colonies.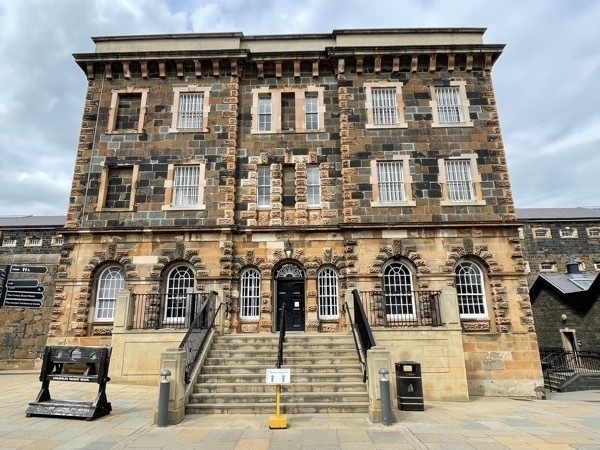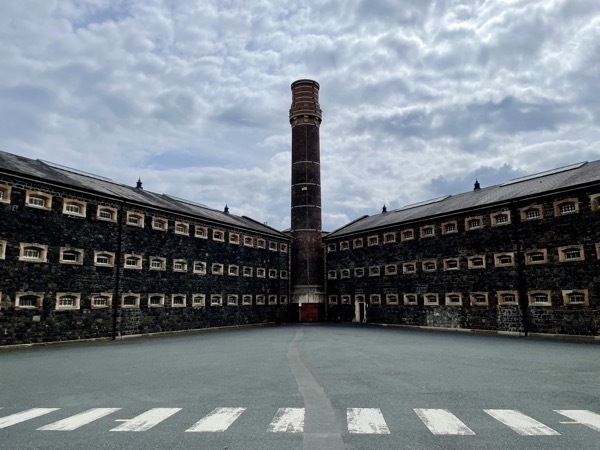 The cells were built for single occupancy with a capacity of 320.  During the The Troubles starting in 1969 it was not uncommon to find three prisoners to each cell.awhile the  prison population swelled to nearly 1,400.  There was still no sanitation in the cells and chamber pots were still used.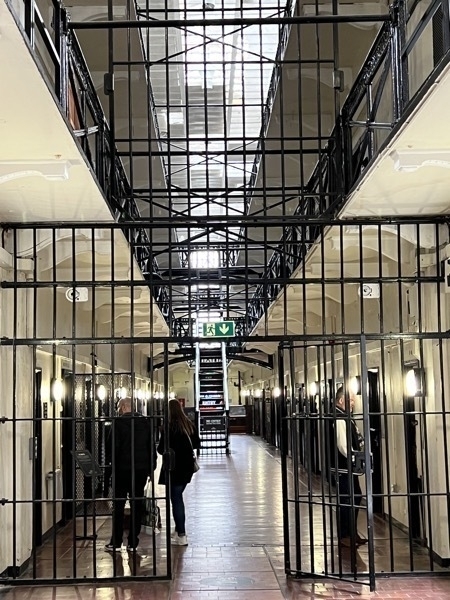 Belfast Peace Walls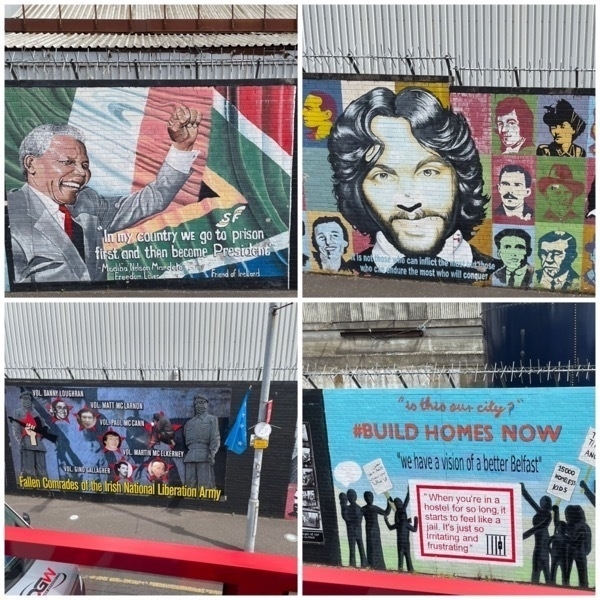 The Belfast Peace Walls have been in existence for over 50 years and it all began with the riots of August 1969, commonly referred to as The Troubles.
Fierce sectarian violence broke out that month between the Loyalist community (Protestants that opposed Catholic Emancipation)  of The Shankill Road and the Nationalist (the Catholic) community of The Falls Road. 
Because of the ferocity and scale of the violence, the British Army was called in and set about constructing so-called 'peace walls' made of corrugated iron and topped with barbed wire. Set up quickly and rather crude looking, they were a simple solution for keeping the two communities apart from each other.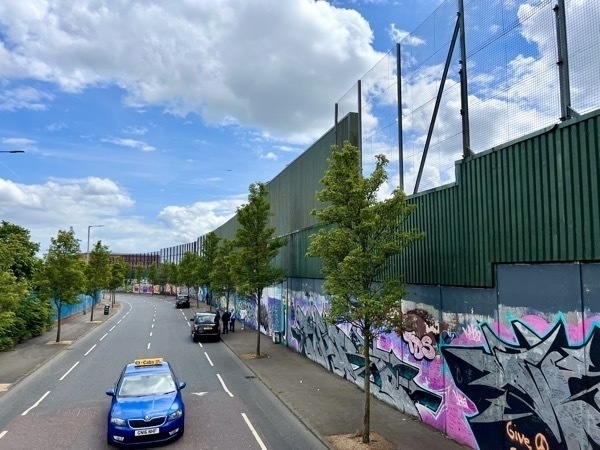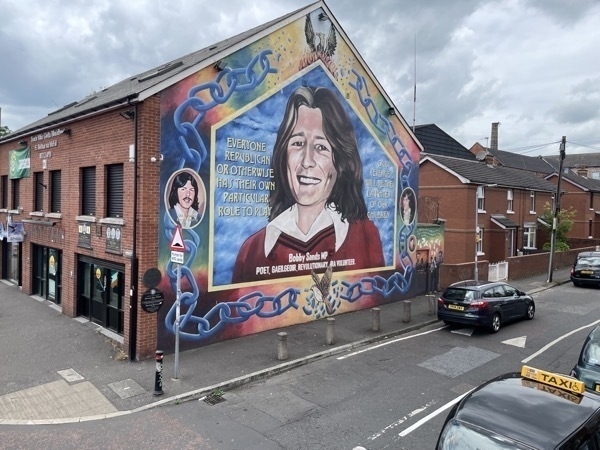 We walked through the center of the city and back to our hotel, Hampton Inn on Hope Road.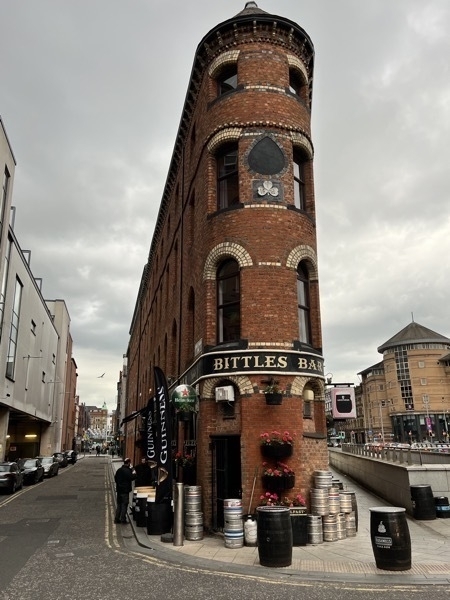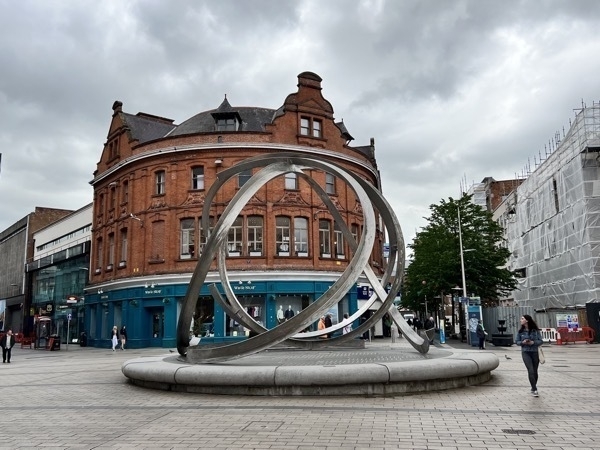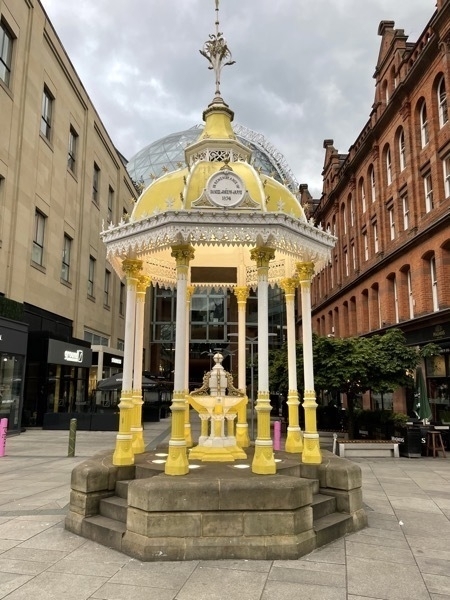 After seeing so many beautiful Chihuly glass piecesr in Tacoma and Seattle last summer we spotted a cheap little decoration and I commented that it was "no Chihuly."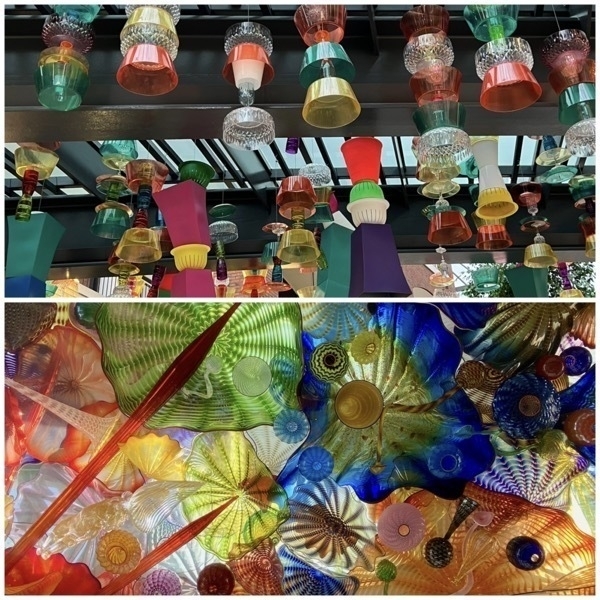 Chihuly glass display in Tacoma, Washington.     Overhead street decoration in the City Center, Belfast.
By the time we finally fell asleep, we'd be awake for 34 hours and were thoroughly exhausted!