Grand Teton National Park - Day 48 & 49
Tom drove over the  8432' Teton Pass into Jackson, WY from Idaho this morning. Warning sign read: "The Teton Pass in extremely dangerous and is HAZARDOUS FOR OVERWEIGHT TRUCKS. Grade steepness, grade length and curve severity can cause trucks to lose control".  Just the sign you want to read when the motorhome weighs over 24,000 pounds, is 37" long and is towing a car with three bicycles!  There was a 10% grade going downhill for at least 6 miles with several warning signs each mile to stay in low gear and travel the curves at 25 mph. I was scared, but Tom did fine driving it.
Once we parked the motorhome in the Gros Ventre Campground in Grand Teton National Park, we drove into Jackson and walked around and took this iconic picture in the town square.  For those of you who haven't been, there are four of there antler arches in the town square, one on each corner.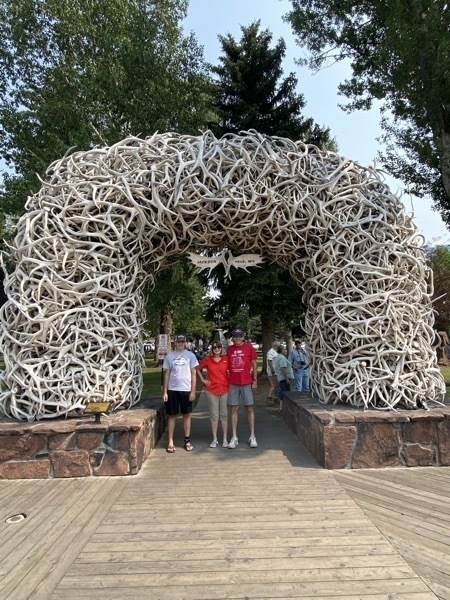 Jackson, WY town square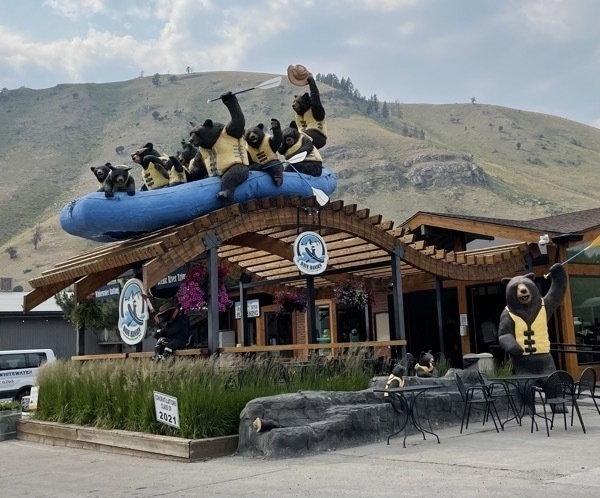 In the evening we went to a chuckwagon dinner at the Bar J Ranch which was very entertaining.  We had the usual chuckwagon meal of BBQ Beef or chicken, baked beens, applesauce, biscuit and baked potato.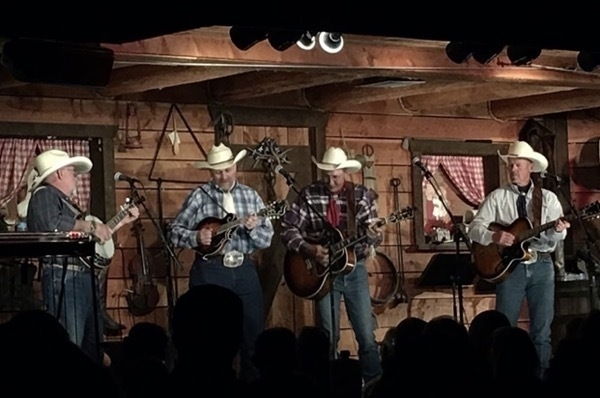 Grand Teton National Park
We stayed at the Gros Ventre Campground in Grand Teton National Park.  We had no hookups at all and were not allowed to run the generator.  Fortunately, the evenings were cool with the temperature in the 40s at night.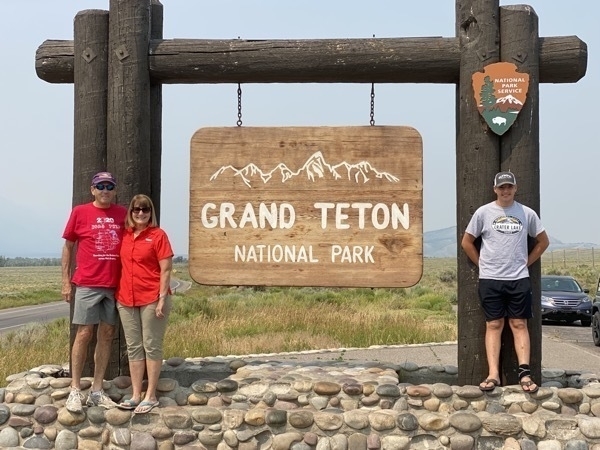 We drove to Jenny Lake and rode a boat to the other side where we hiked up to Inspiration Point.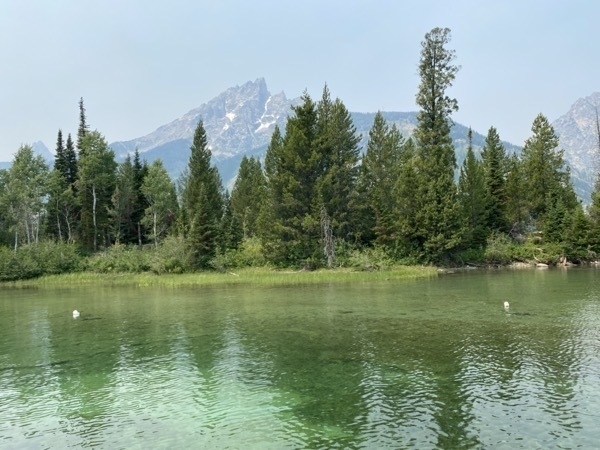 Jenny Lake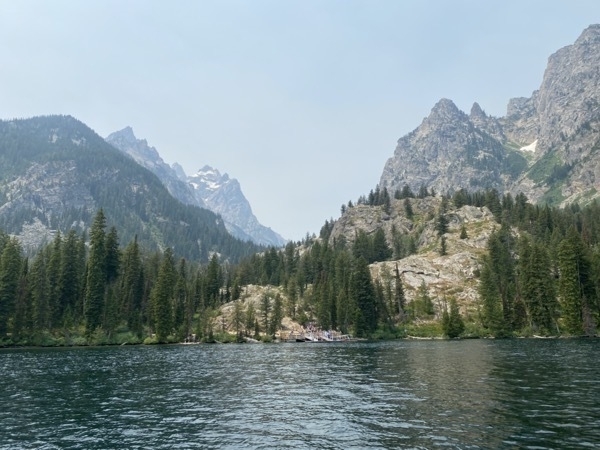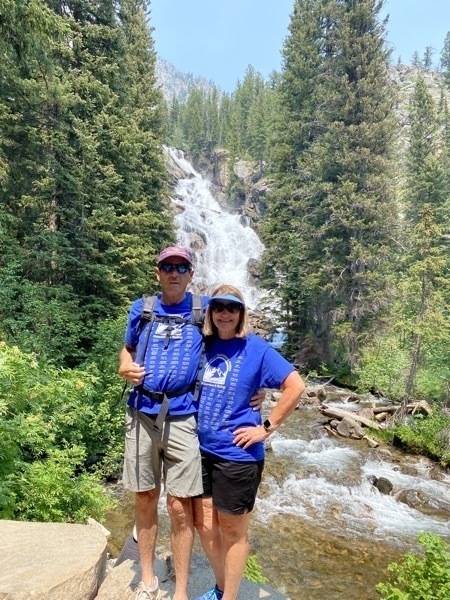 Hidden Falls is behind us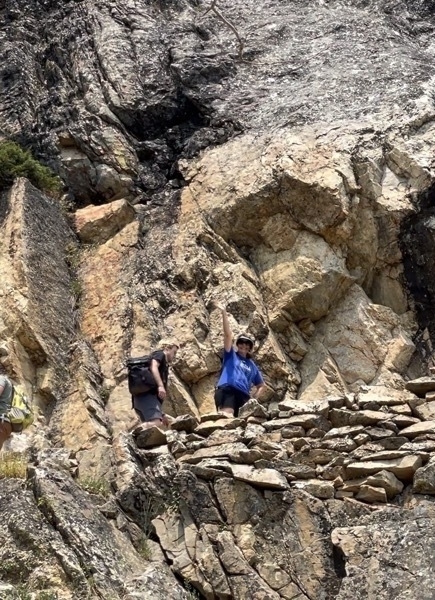 Going up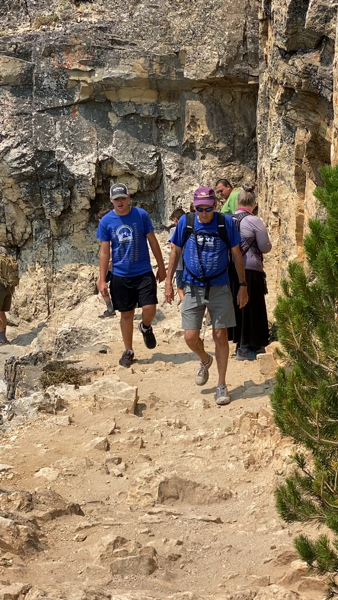 This trail was narrow and switchback, but the views were very nice.
We made it to the top.  The sign reads "Inspiration Point 7200 Ft"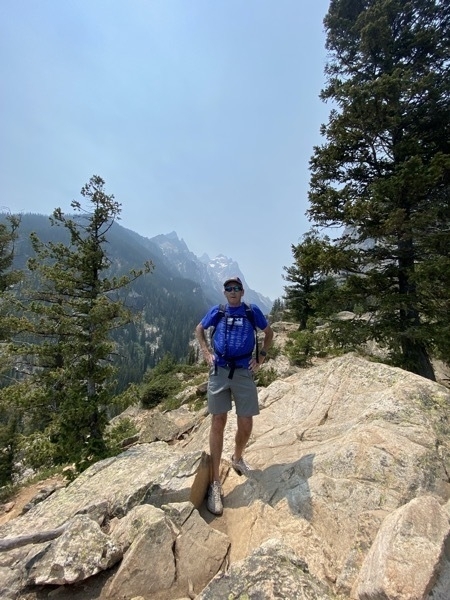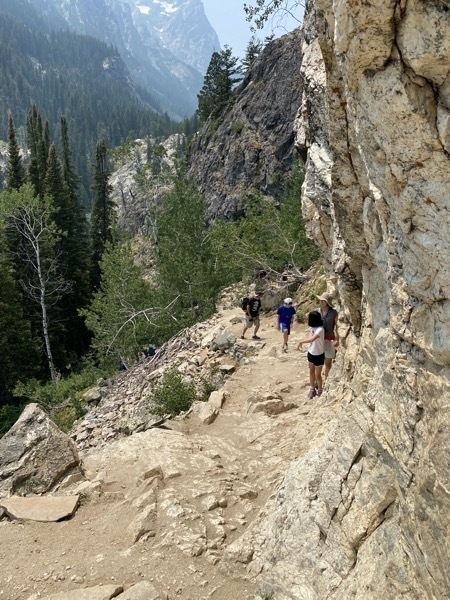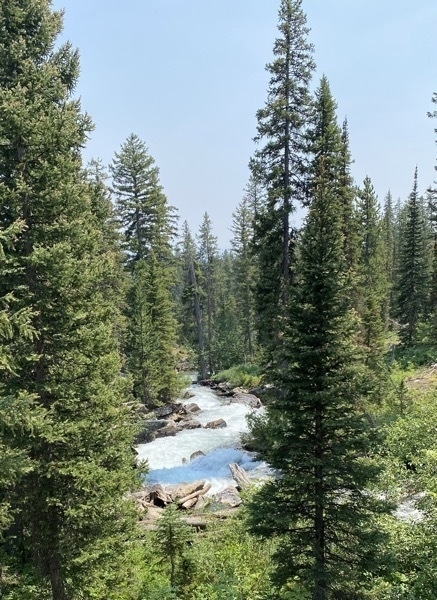 When we got back down to the lake, there was a LONG line waiting to ride the boat back across Jenny Lake.  We waited for 1.25 hours for our turn .
In the evening we visited with Tom's high school classmate Gayle and her husband Breland who just happened to be camping in the same campground.
Trip Statistics
We drove the motorhome 98 miles from Rexburg, ID.  Trip total distance travelled in motorhome is 5007 miles
We  drive the CRV 100 miles with at Grand Teton.  Touring total is 2,065.  Total trip for both vehicles is 7,263 miles
We stayed at the Gros Ventre Campground in Grand Teton for $21.65 (which is 1/2 price with the NP5 Pass).  Total campground cost is $1,937.21 or an average of $3950 per night
We've spent $2,741.32 on gasoline.  The last fillup was $3.799 per gallon