Sequoia and Kings Canyon National Parks--our 42nd and 43rd National Park
Yesterday we met up with the Findleys and the Lukes at Success Lake Campground in Porterville, CA.  This morning we drove to Sequoia National Park and spent the day exploring the park.  Our first stop was our obligatory photo opportunity at the National Park sign. It was 92 degrees when we entered the park and the temperature dropped to 72 as we drove deeper into the park.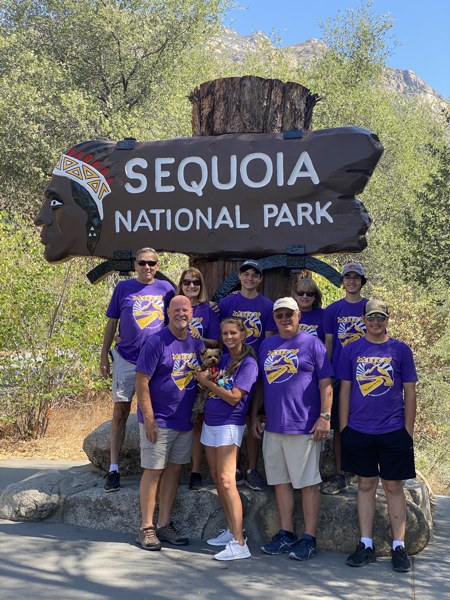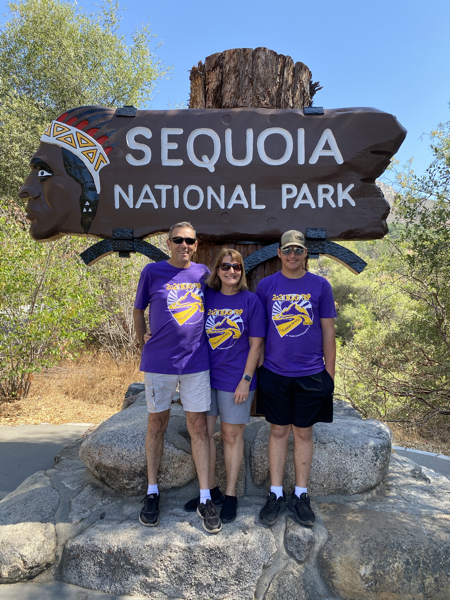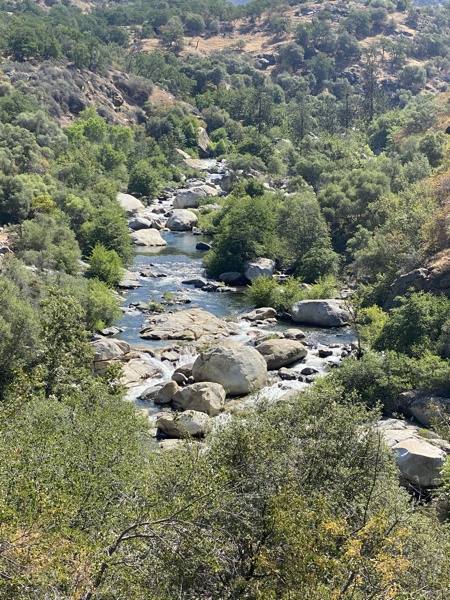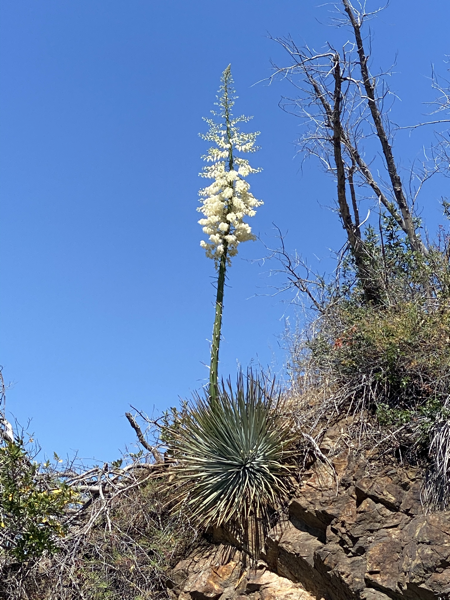 The road through the park is very curvy with a speed limit around 25 mph most of the way (except for the 10mph and 15mph for many of the curves).  
Moro Rock
Our first destination after the sign was Moro Rock, an immense dome-shaped rock of granite.  We climbed 350 steps to get to the top and were rewarded with  breathtaking views of the High Sierras as well as being able to see the curvy road we drove to get there.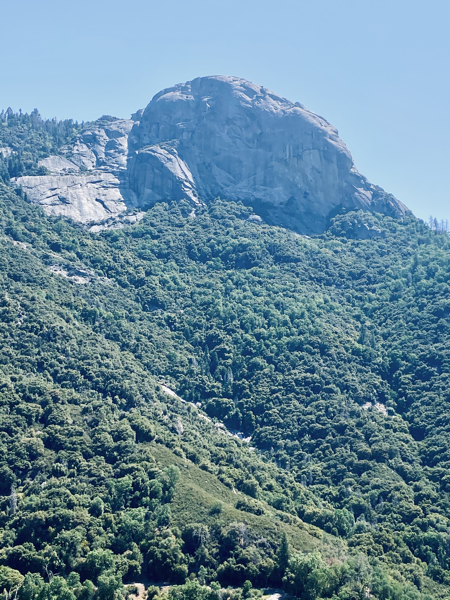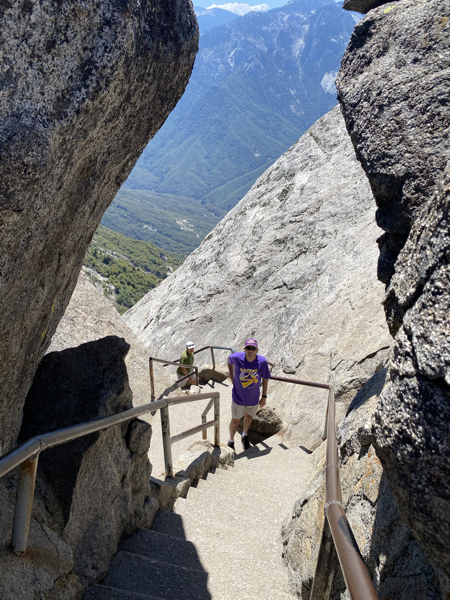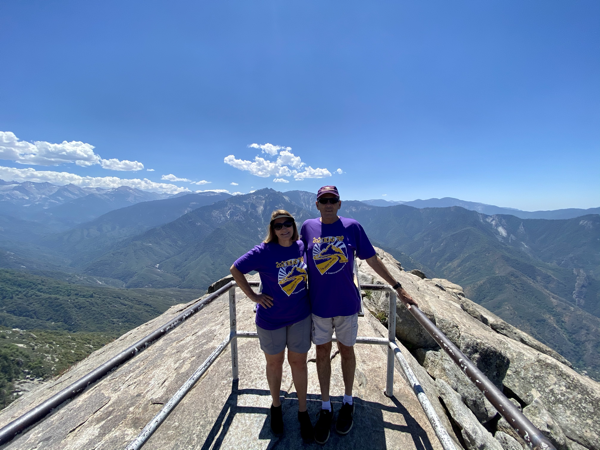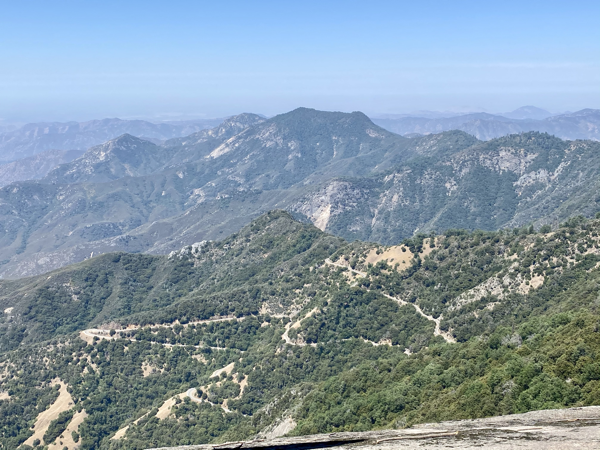 We drove through Tunnel Log  on our way to Crescent Madows where we ate our picnic lunch.  Tunnel log fell on December 4, 1937.  Its base was 21 feet in diameter and its length was 275 feet.  The tunnel is 8' high and 17 feet wide.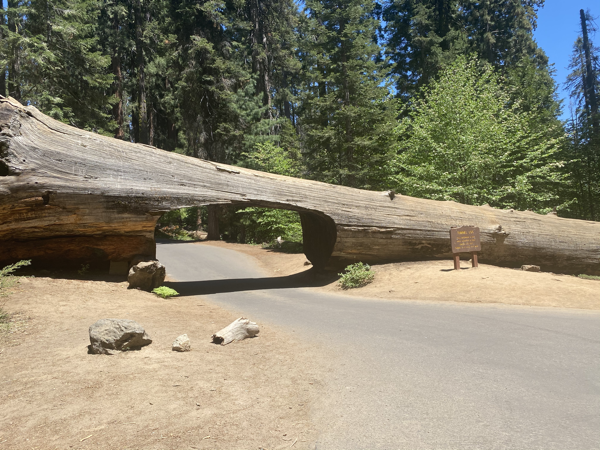 After lunch we hiked  to Tharp's Log.  In 1869 Hale Tharp and his sons used a fallen hollow log as a cabin. The log was hollowed by fire through 55 feet of it's 70; length. A fireplace, door and window exist in the wider end, with a small shake covered cabin extension.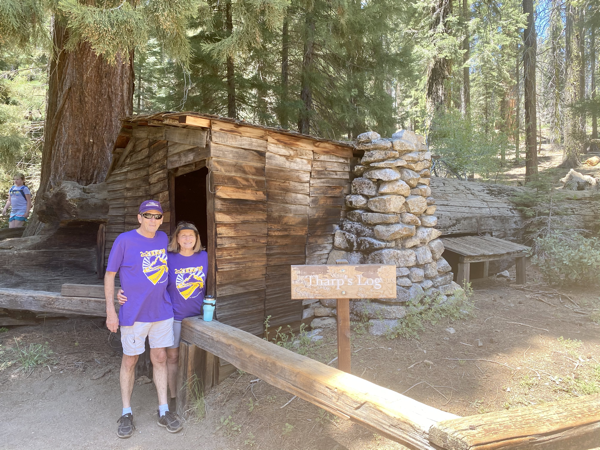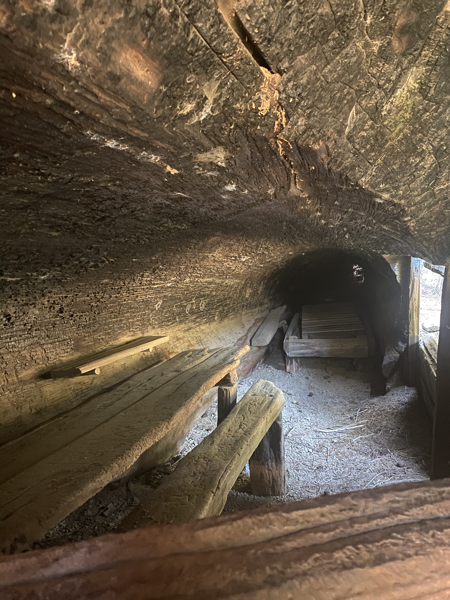 Interior table and bed
Tom, Ben, Dillion and Drew hiked to the General Shearman while the rest of us walked back to the car and drove to meet them.  On our way back to the parking lot we saw a bear in the meadow.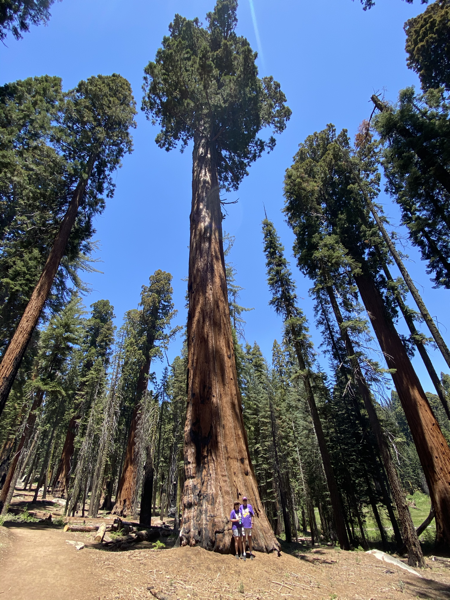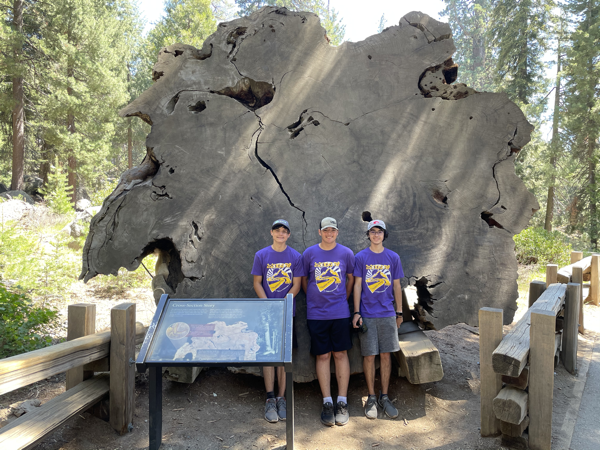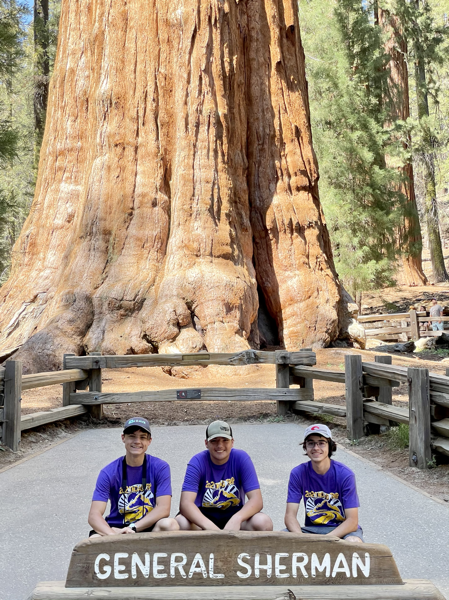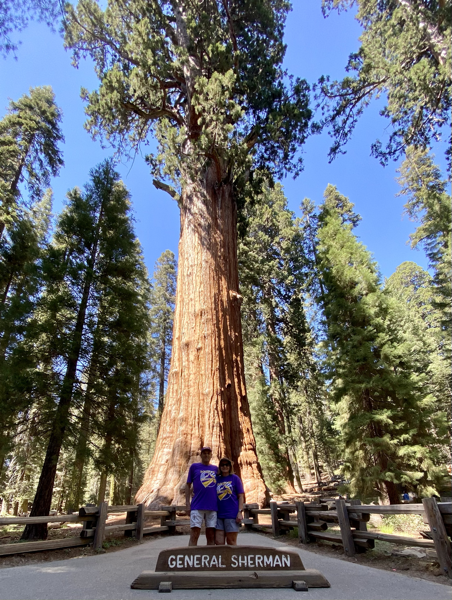 The General Sherman has a circumference of 109' at its base.  Even though the top of the tree is dead, its volume keeps increasing. Each year the trunk grows wider adding enough wood to equal another good-sized tree.
King's Canyon National Park
Tom and I kept driving through the park to get to King's Canyon National Park where we saw the General Grant Sequoia and more giant sequoias and magnificent views.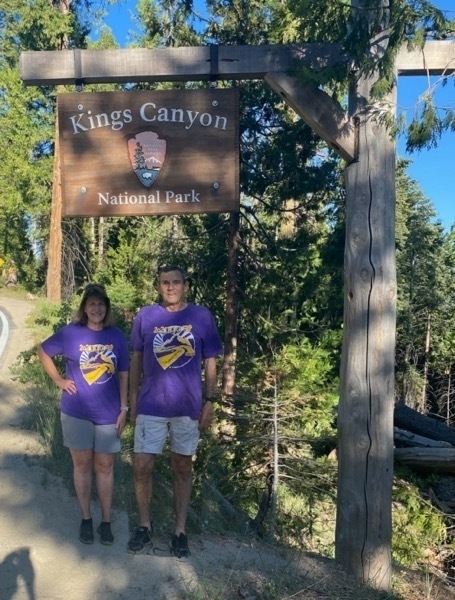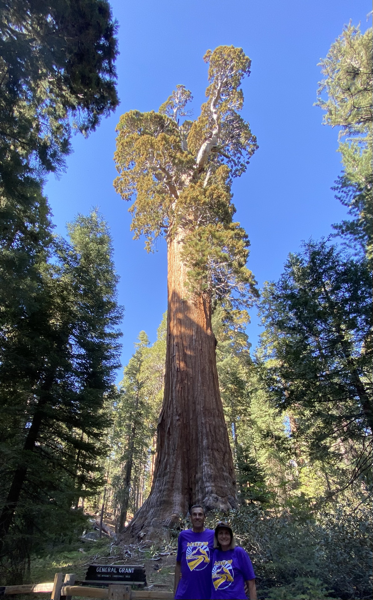 The General Grant tree's massive trunk makes it the third largest tree in the world by volume. At 40 feet in diameter at ground level, it is the world's widest known sequoia.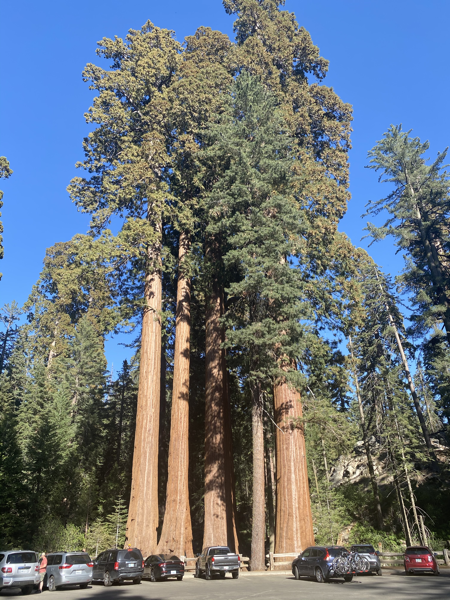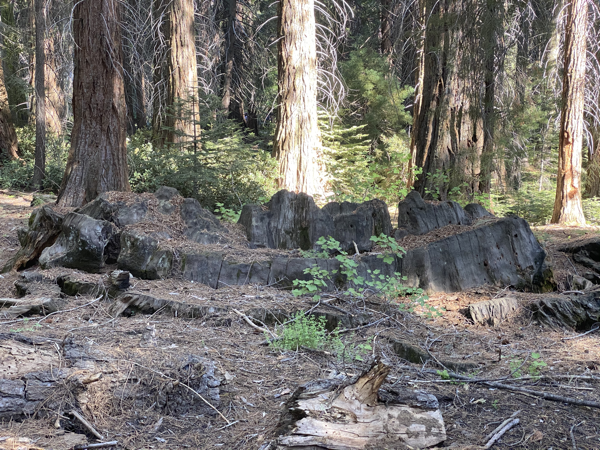 This sequoia was cut in 1875, and a 16 foot sent to Philadelphia Centennial Exhibition of 1876.  Only the outer shell was exhibited, the parts being reassembled after shipment.  Eastern people refused to accept the exhibit as part of a single tree exhibit and called it a "California Hoax."  It gook 2 men nine days to cute down the tree.  
T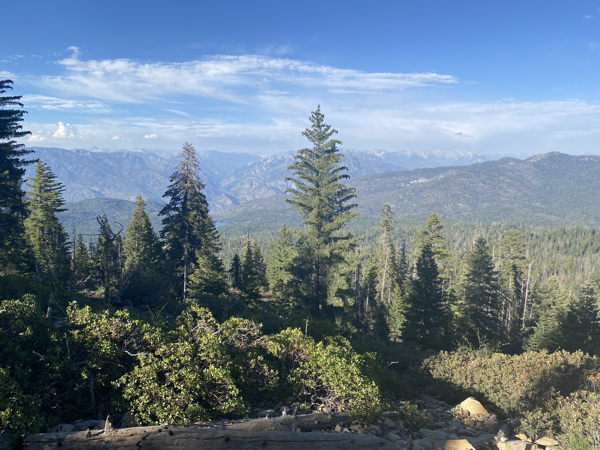 Trip Statistics: 
We drove 200 miles yesterday from the park through the two campgrounds and back.  Total miles driven:  2004 in motorhome and 494 miles in the car.
Gas was $76.08 in the motorhome for a total of $836.85
We are staying at the Succes Lake Campground in Porterville, CA for $15