Bicycling down Pike's Peak
Today was one of those "Bucket List" items that I have really wanted to do.  We booked a bicycle tour with Pike's Peak Bicycle Tours to bicycle from the summit of Pikes Peak down the mountain.  We met our tour leaders and the six other members of our tour group at the bicycle shop at 7:15 this mornin where we were given our helmets and the proper size Canondale bicycles for the ride.  The tour guides loaded the bicycles on top of their van and drove us to the top of Pike's Peak.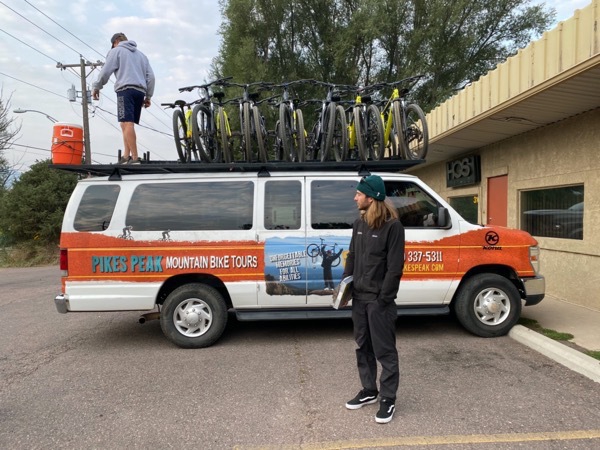 The Pikes Peak Highway is 19 miles from the Tollgate entrance to the summit and has a 2 lane road ascending more than 6,000 feet in elevation. The admission is $15 per person or $50 per car —unless you have the Senior Pass like us, then it's free.  Because of the construction for a new visitor's center at the summit, cars are not allowed to drive all the way up.  There is a temporary lot about 2 miles down and visitor's are shuttled to the top from there .  The bicycle company had a special permit to drive all the way up, and we arrived at 9:00am.  We spent a few moments walking through the gift shop, using the restroom and taking pictures by the sign, and then got back in the van and drove less than a mile to a safe spot with no construction equipment, to begin our ride.
The temperature was 37 degrees and dry—cold, but a perfect day to start our ride.  I was wearing many layers including a short sleeve shirt, long sleeve shirt, lined vest, lightweight jacket, a windproof jacket and gloves when we started  the ride, but by the time we finished, it was about 67 and I had removed the windproof coat and gloves.
Our total downhill ride was just over 20 miles as we descended from just below the summit to beyond the gate and past the North Pole Village in Manitou Springs.  What a day!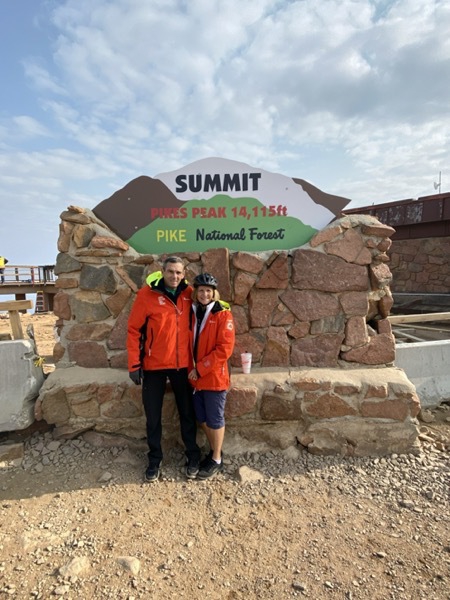 9:00 AM - 37 degrees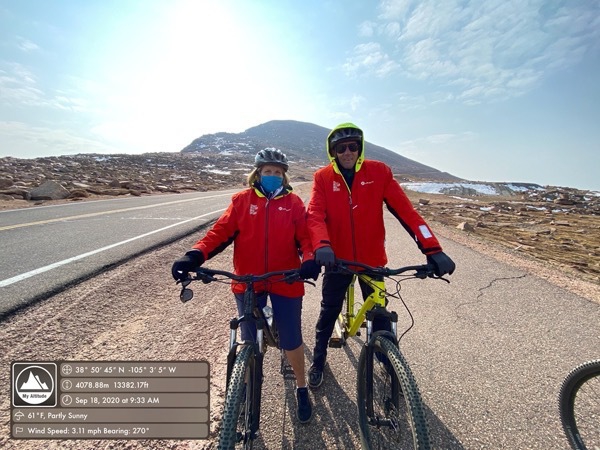 9:30AM at 13,387 feet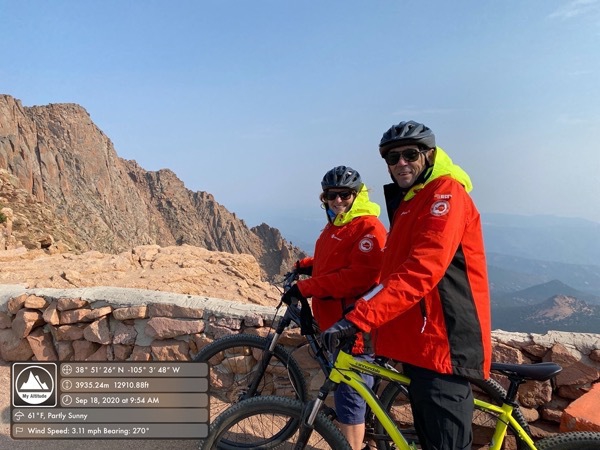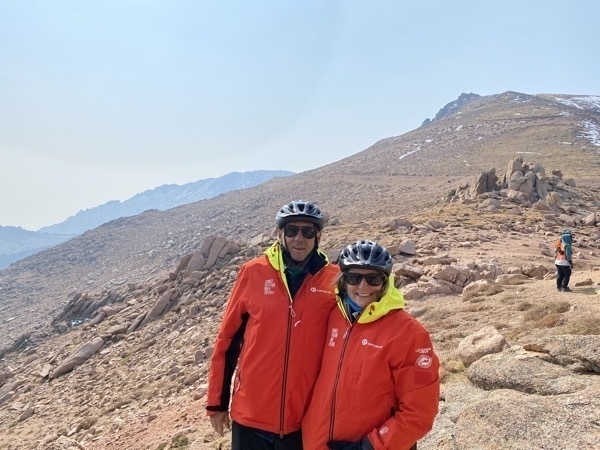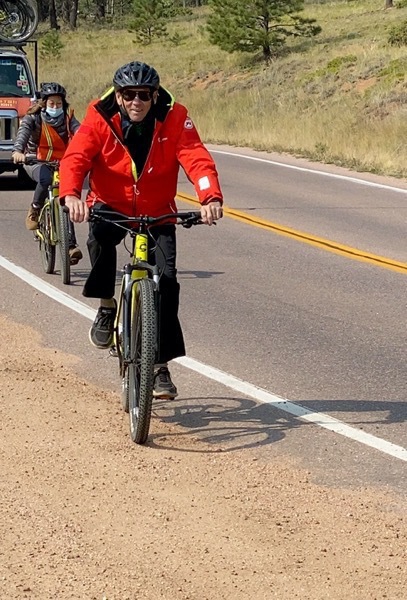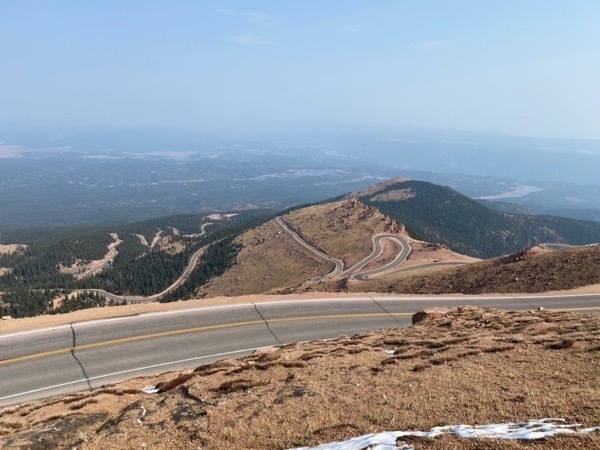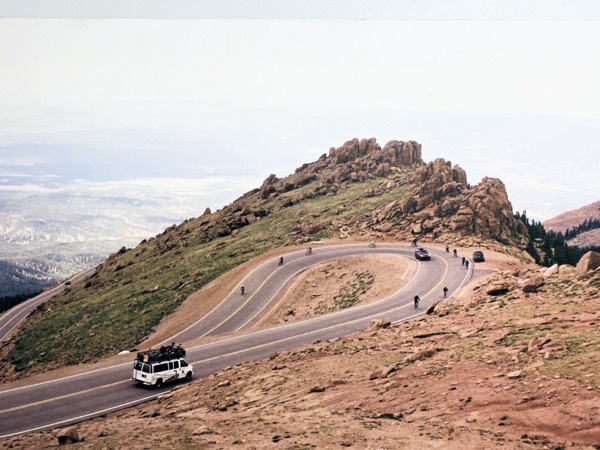 Round and round and down and down we went!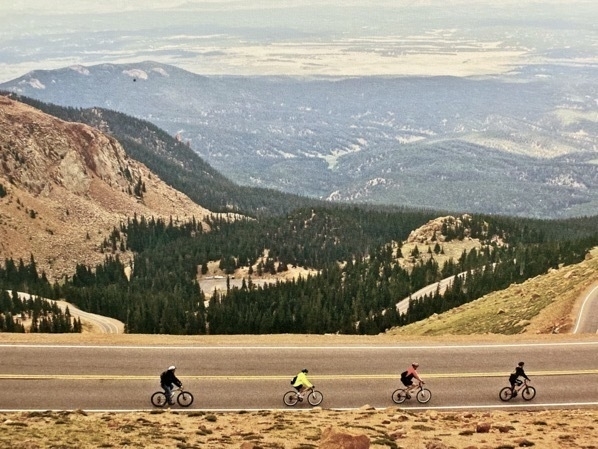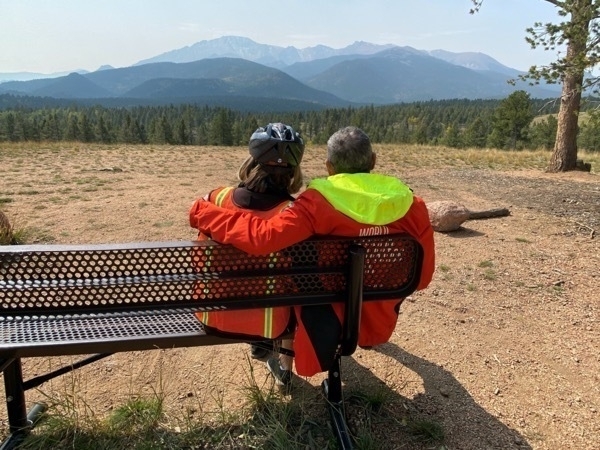 Enjoying the view of where we started our bicycle ride.
After the ride we were treated to lunch at a Greek Restaurant Afterwards, we walked the streets of Old Colorado City and enjoyed looking at all the unique merchandise.  Tom's site was the Rocky Mountain Chocolate Factory Sign!