Evacuation for Hurricane Laura
Day 1 Evacuation- Tuesday, August 25
A mandatory evacuation order was issued for SW Louisiana and SE Texas.  We prepared our home  and left in our motorhome.  We were very pleasantly surprised to find that there was very little traffic going NW.  We drove as far as Lufkin, TX where we stopped for the night at the Good Life RV Park.
While Tom set up the motorhome at the campsite, I drove to my friend Jennifer Yabloksy's home and visited with her and her husband Michael..  We visited for about two hours--first visit since our 40th class reunion.
Day 2  Evacuation - Wednesday, August 26
We drove from Lufkin to Lewsiville, TX where we stayed at the Lake Park Campground.  In the evening we walked around the campground and watched the sun set while we enjoyed the lower humidity .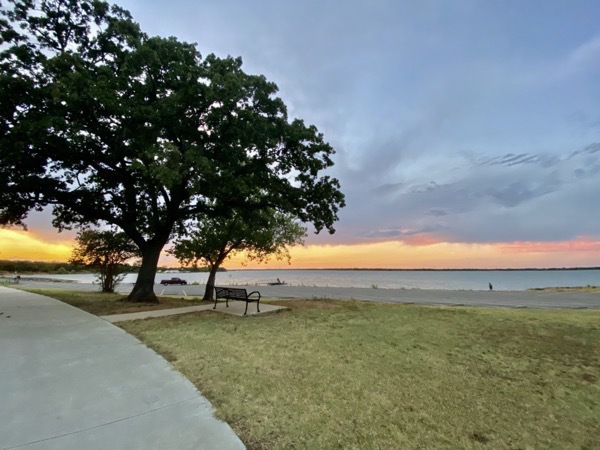 Day 3 Evacuation - August 27, Thursday - Lewisville, TX
Our friends Monty and Renee who live in Lewisville drove over to walk with us this morning before they left for work.  We walked 2.5 miles while we visited.