Picture Rocks National Lakeshore - Munising, MI Day - Day 37
We had an early start this morning!  We drove from Newberry 59 miles to Munising for a 10:00 Kayak tour on Lake Superior in Picture Rocks National Lakeshore.  Tom walked to Miners Falls (1.2 miles roundtrip) and then Miners Castle so he could photograph us kayaking once we got to that point.
Picture Rocks  National Lakeshore has beautiful sandstone cliffs and fine sandy beaches along Lake Superior shoreline as well as waterfalls, sand dunes and dense forest.  The cliffs rise from 50 to 200 feet above Lake Superior for 15 miles from Sand Point to Spray Falls. The name "Pictured Rocks" comes from streaks of mineral stain that decorate the face of the weather-sculpted sandstone. These colors occur when groundwater oozes out of cracks and trickles down the rock face. Iron (red and orange), copper (blue and green), manganese (brown and black), and limonite (white) are among the most common color-producing minerals.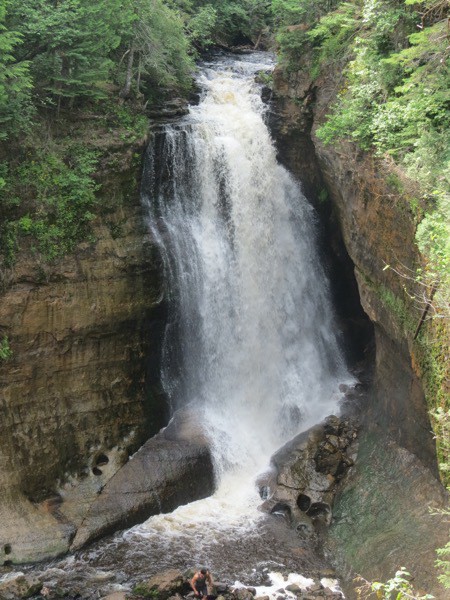 Miners Falls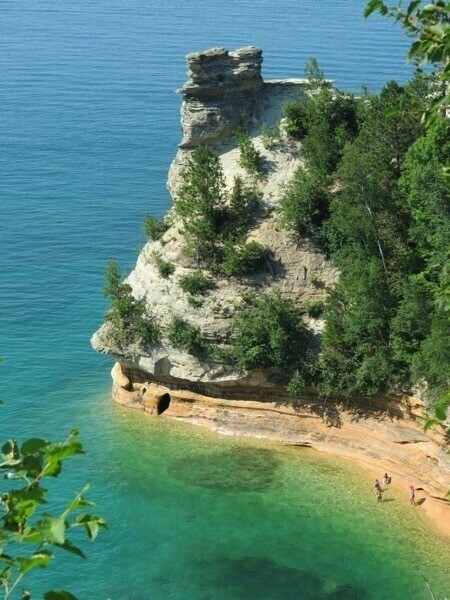 Miners Castle from the kayak
We booked our tour with Paddling Michigan and did the Morning Delight tour (@$109 each).  The tour enabled us to paddle into the caves, along the cliffs, and get an upclose view of Miners Castle from the water.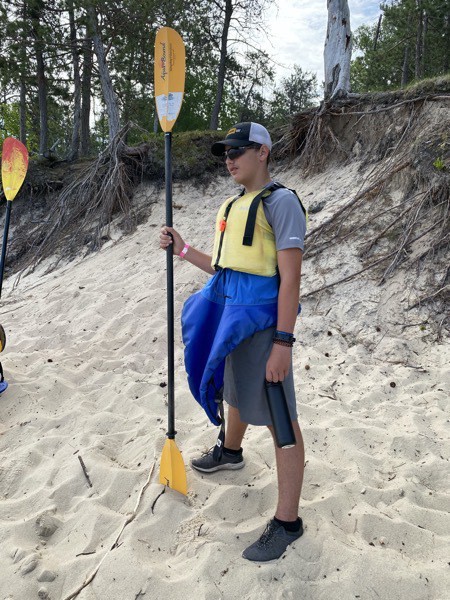 Check out Ben's fashionable look!  The blue layer under his life jacket fits around the kayak opening to keep him dry.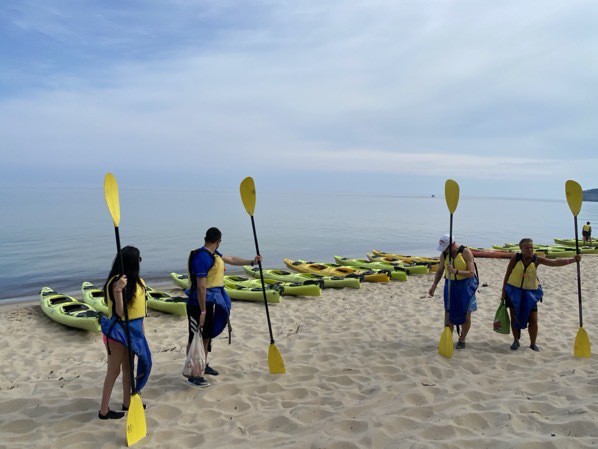 Getting a quick lesson before our tour.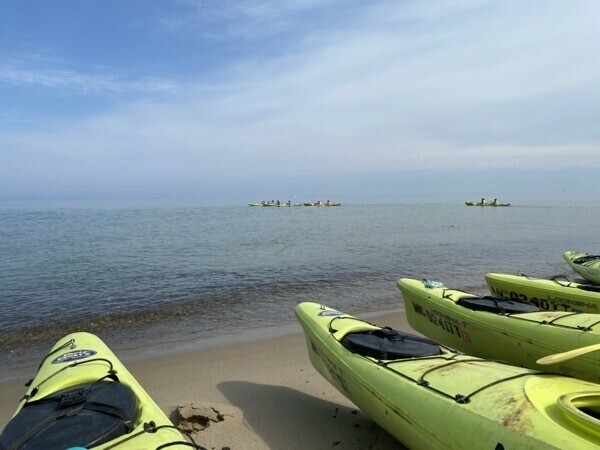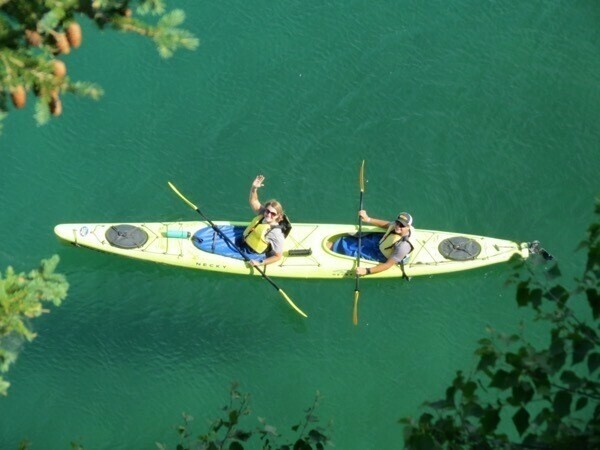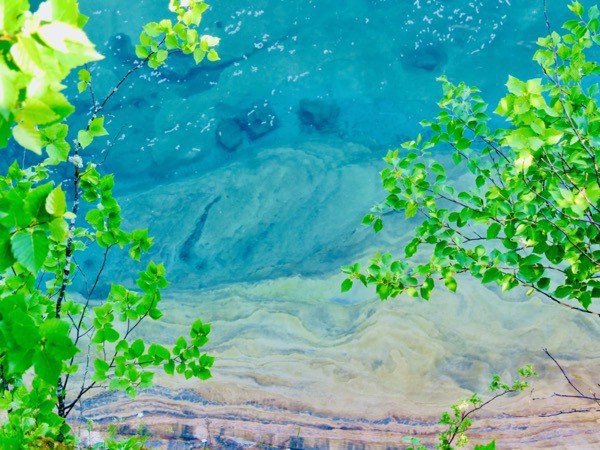 Tom took this picture of the crystal clear WATER from Miners Rock.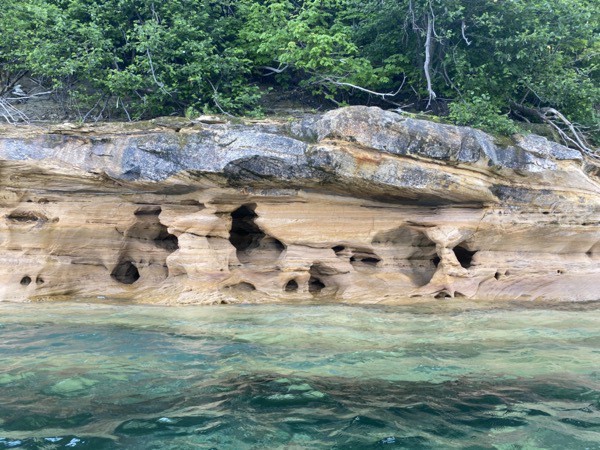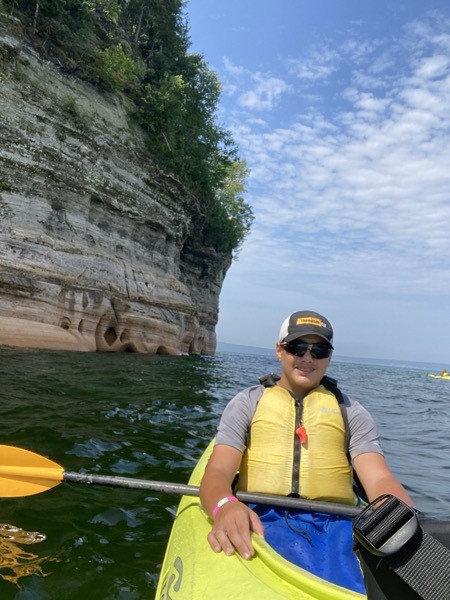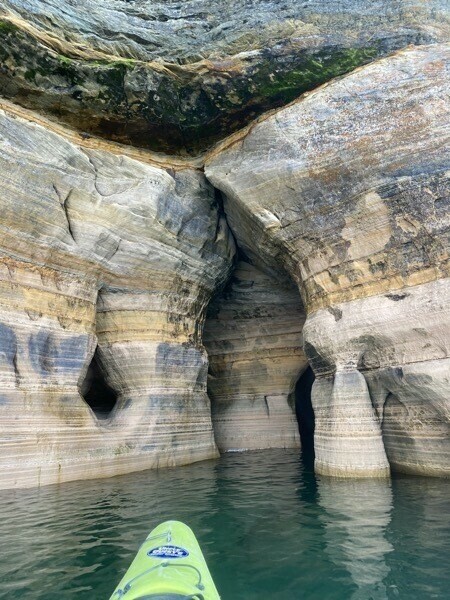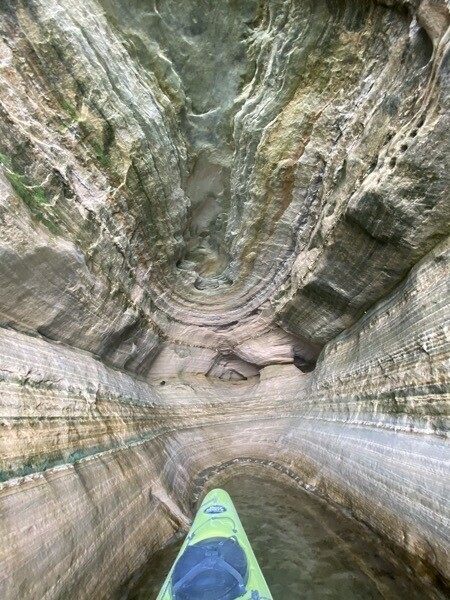 After our amazing kayak experience, we drove to Van Riper State Park near Champion where we are staying for the night. It has 1.5 miles of frontage on Lake Michigamme with a fine sandy beach and 1.5 miles of frontage on the Peshekee River.
Trip Statistics
We have driven a total of 4,171 miles — 2,831 in Big Hat and 1,340 in the car .
Gas total 877.99 or an average of $23.73 per day.
Van Riper Campground  was 37.00 per night for a total campground cost of $1,415.36 or an average of 38.25 per night.