Day 34 - A ride on the White Pass & Yukon Railroad
A bus picked us up at the campground at 8:20am to take us to Fraser to board the White Pass & Yukon Railway for an unforgettable ride to Skagway, AK.  It was a nice day with the temperature in the mid to high 50s. Our first stop was for a photo break at Emerald Lake. Next stop was Carcross where we had an hour and fifteen minutes to walk around the town, shop and get some ice cream.
Emerald Lake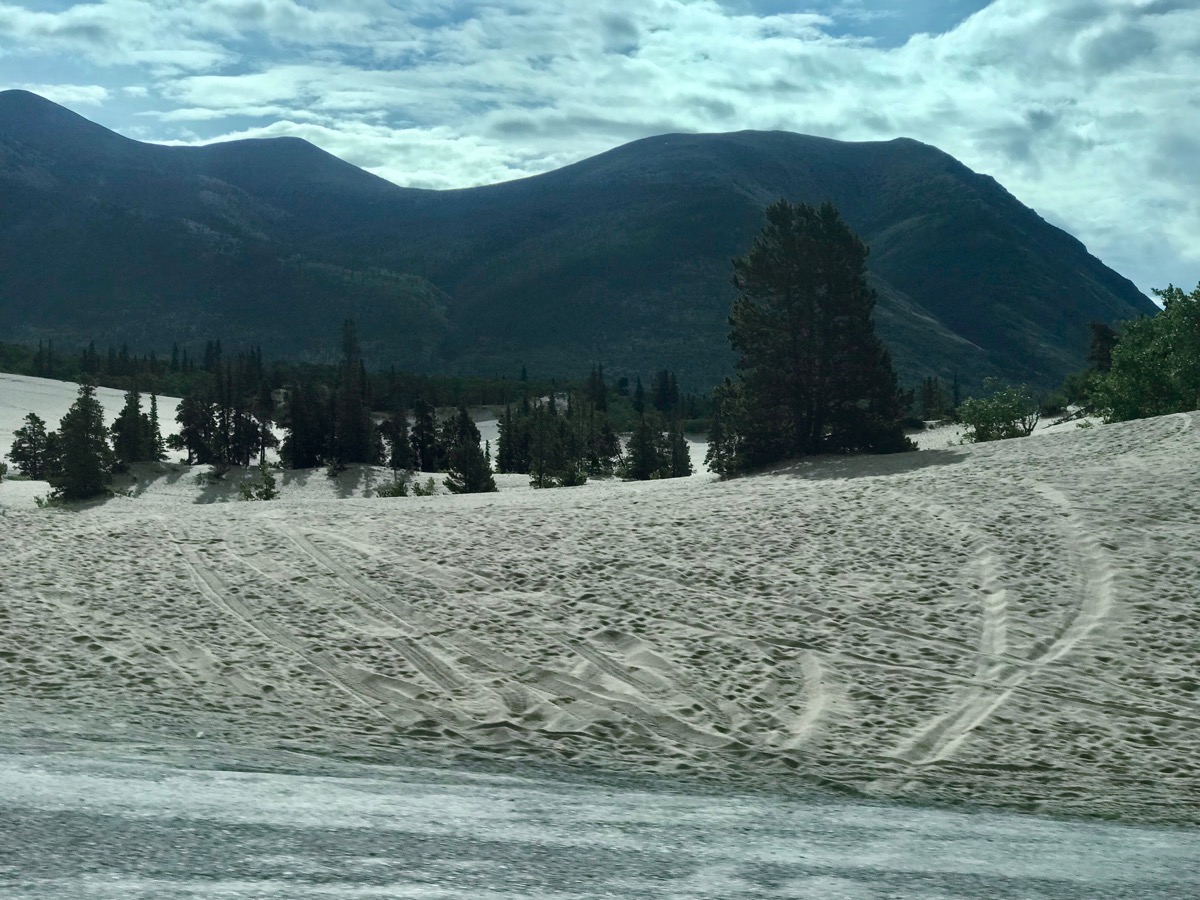 Carcross Desert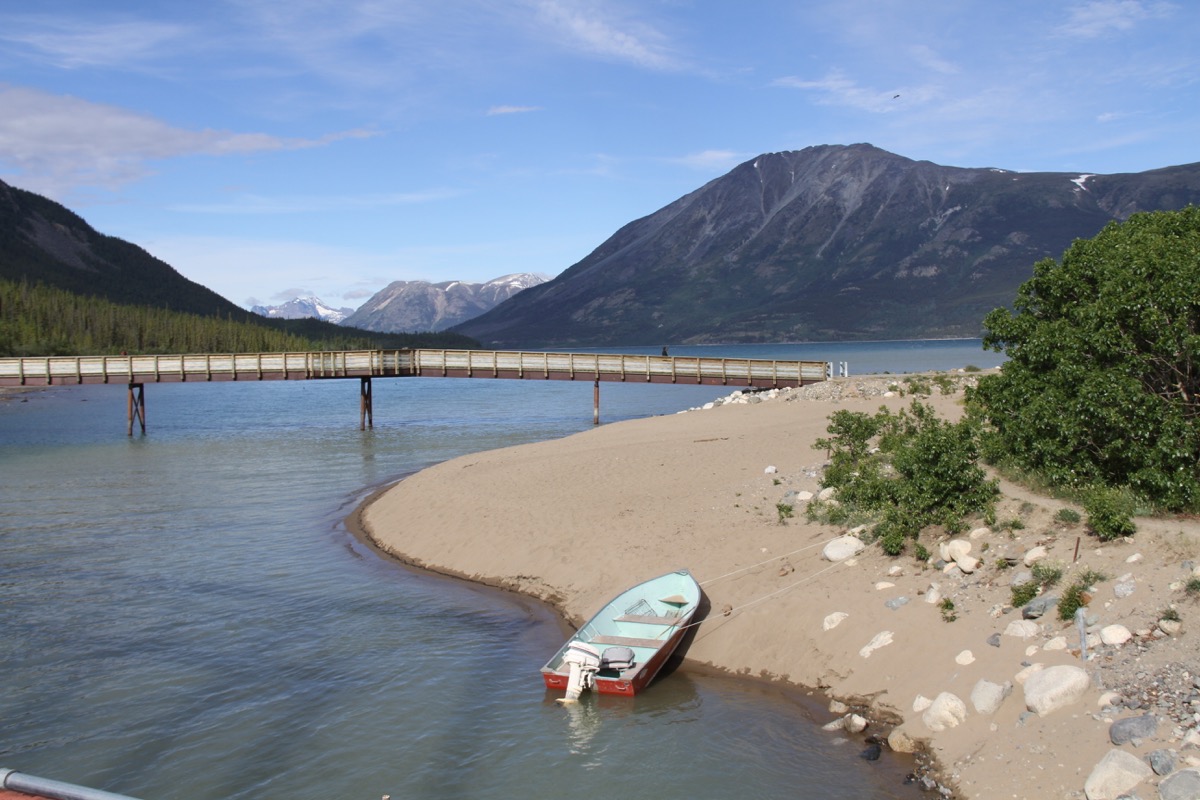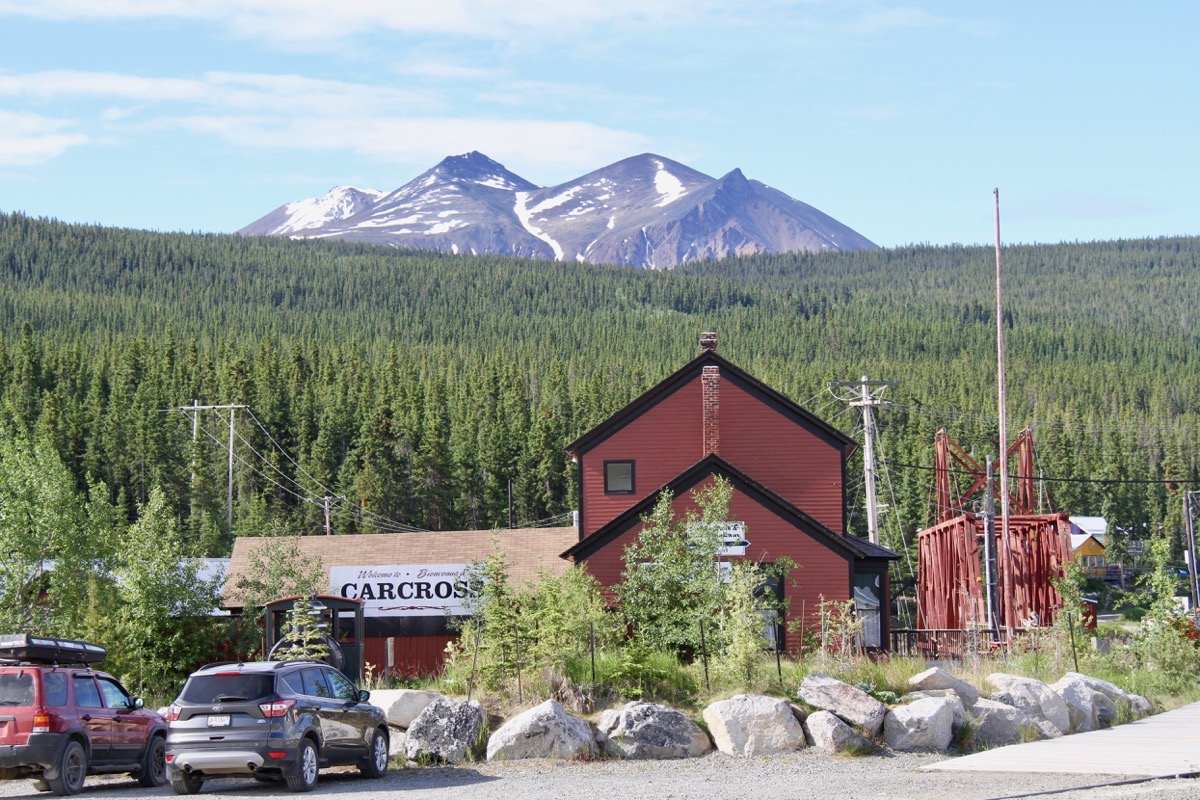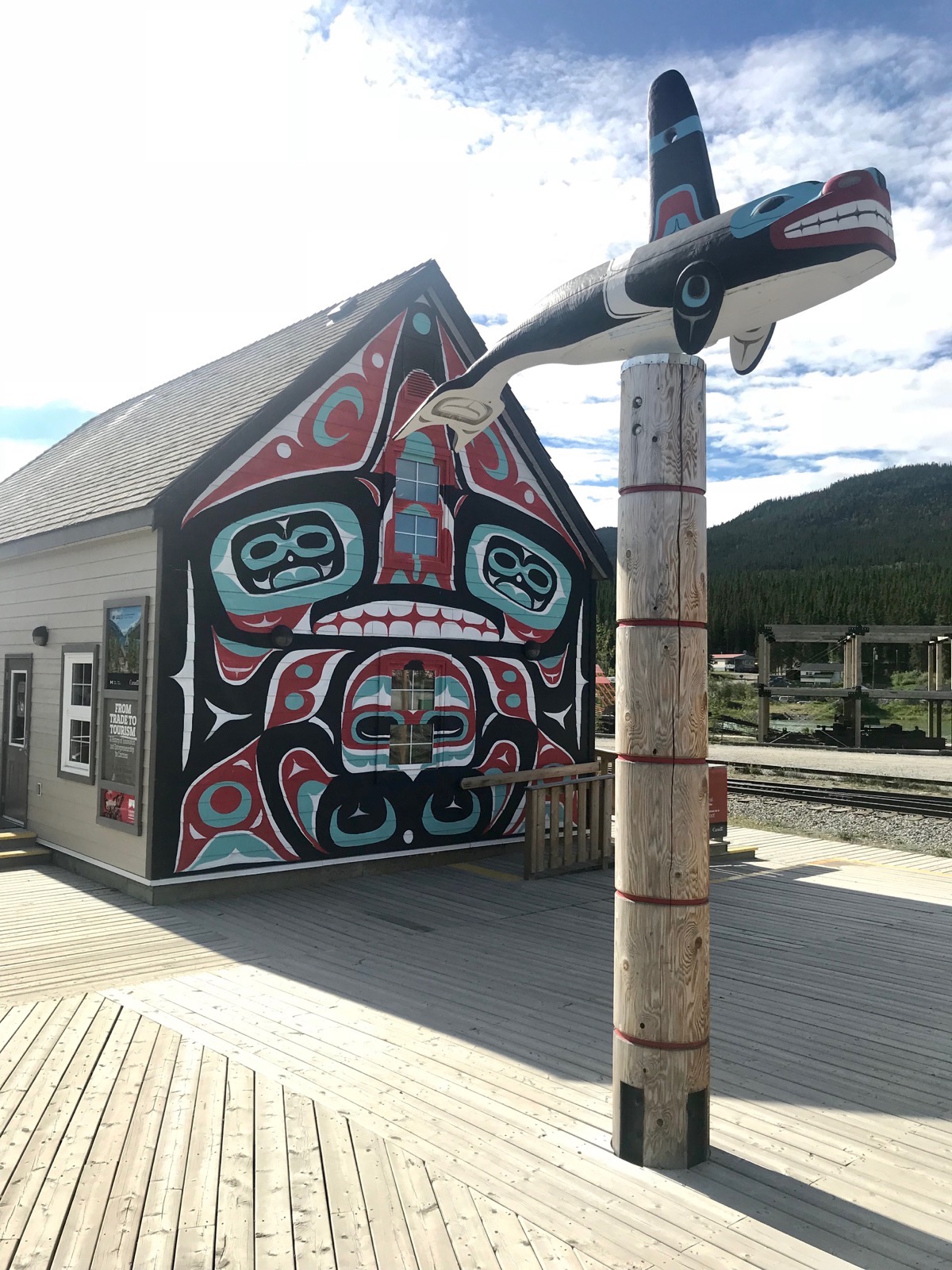 First Nation gift shop and totem poles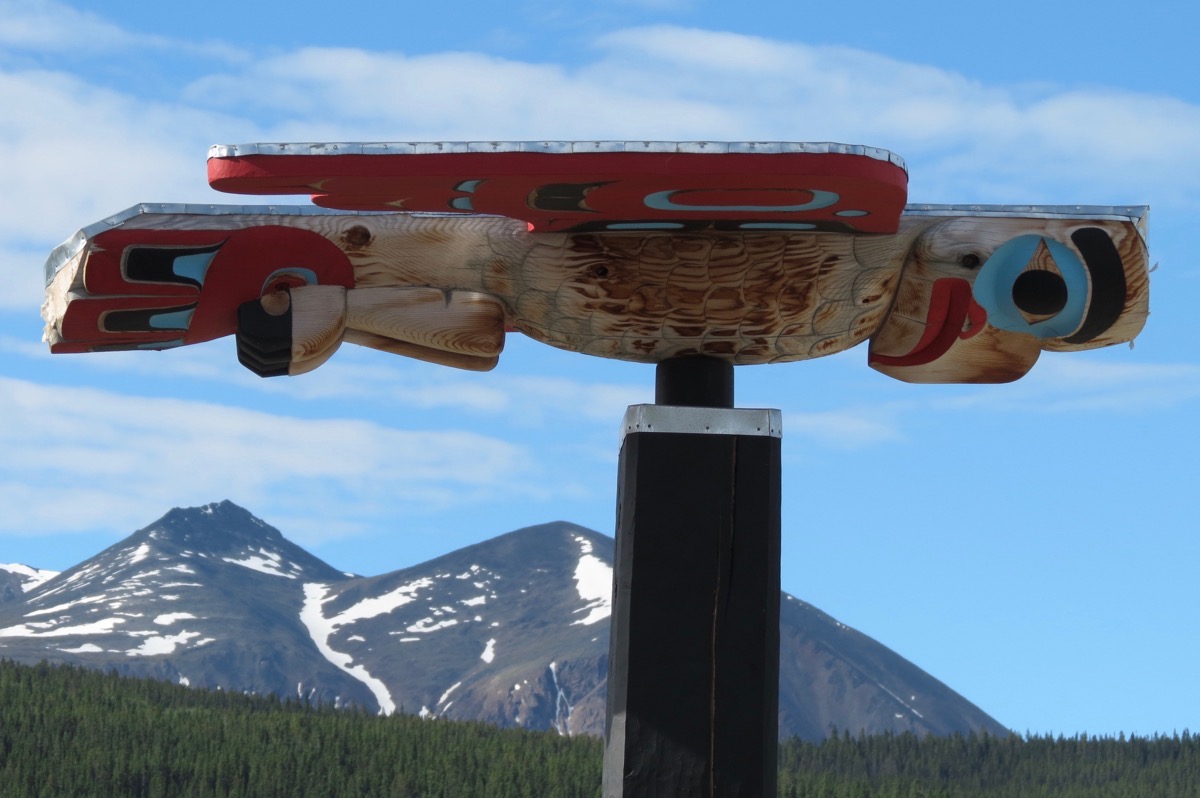 White Pass & Yukon Railroad
The White Pass & Yukon Railway route climbs from sea level in Skagway to almost 3,000' at the summit in just 20 miles and features steep grades of almost 3.9%.  The tight curves of the White Pass called for a narrow gauge railroad.  The rails were three feet apart on a 10'bed which also meant lower construction cost.
Building the one hundred and ten miles of track was a challenge in every way.  Construction required cliff hanging turns of 16 degrees, building two tunnels and numerous bridges and trestles.  Work on the tunnel at Mile 16 took place in the dead of winter with heavy snow and temperatures as low as 60 below.




Dead Horse Gulch - 3,000 pack animals, victims of neglect by stampeders and overloading, met their end in the stampede of 1898 here.
Klondike Gold Rush
Gold was discovered in the Yukon in August of 1896.  During the first year of the Gold rush an estimated 20,000 to 30,000 prospectors flocked to the area. All through the summer and on into the winter of 1897-98, stampeders poured into the newly created Alaskan tent and shack towns of Skagway and Dyea - the jumping off points for the 600-mile trek to the goldfields.
To prevent mass starvation in the remote and inaccessible Yukon Territory, the Canadian government required every stampeder to bring a year's supply of goods before crossing the border.  The Canadian government determined each person going to Dawson from Skagway or Dyea needed three pounds of food per day for a whole year. Food alone would weigh in at a minimum of 1,095 pounds or just over half a ton. But for a prospector, adding necessary clothes and equipment to the food could easily double the total load, and thus came to be known as a "ton of goods."
This ton of food and supplies had to be moved up the 600 miles chilhoot trail.  The trail was too steep for service animals, so the goods had to be carried. Stampeders who carried their own goods had the choice of carrying more weight or walking more miles. A light pack of 50 pounds meant more trips. A heavy pack of 80 pounds meant fewer trips, but extra weight and slower pace. Every mile walked with a load meant another mile back empty.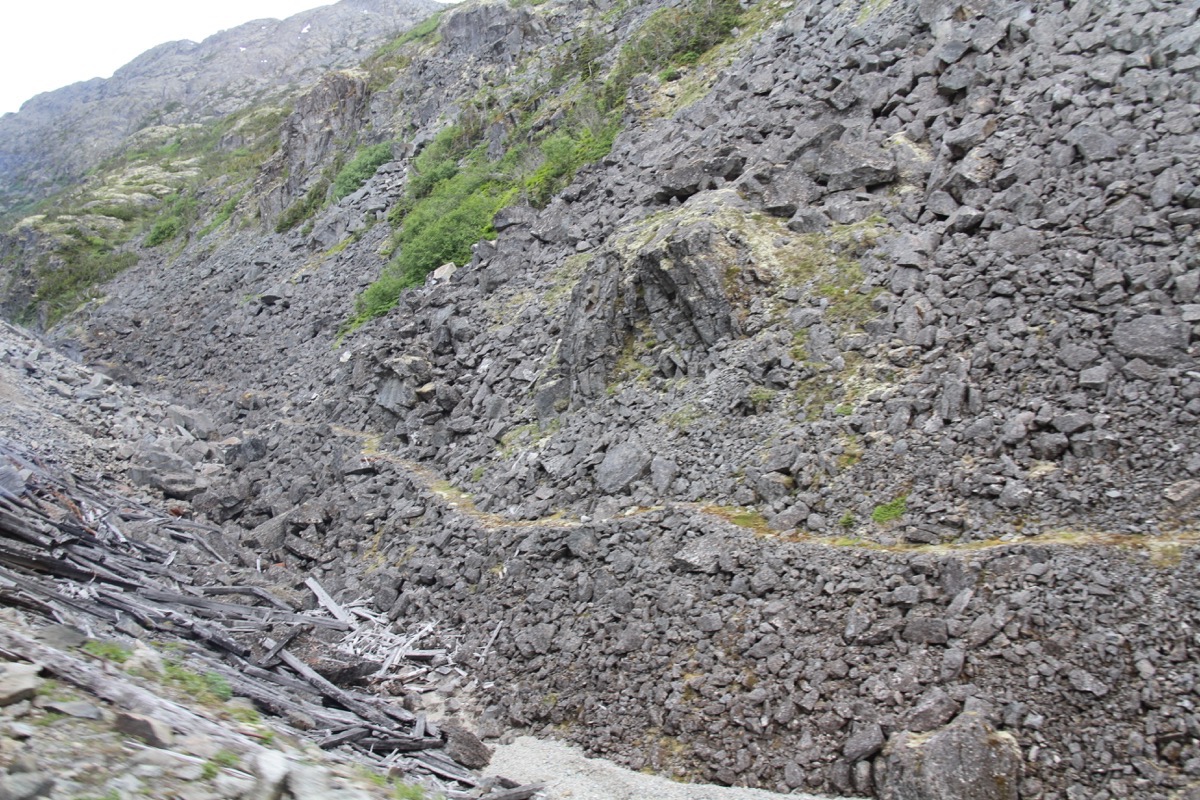 Some of the level part of the goldrush trail before the steep mountain pass.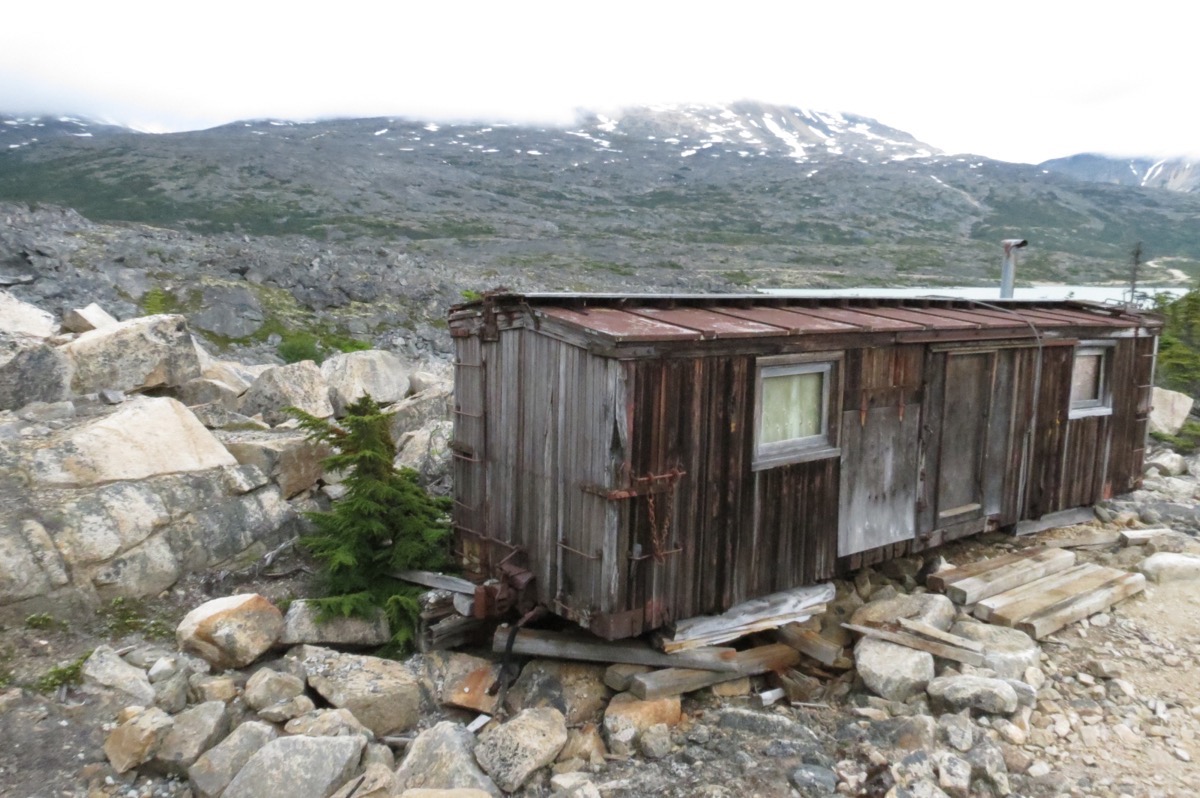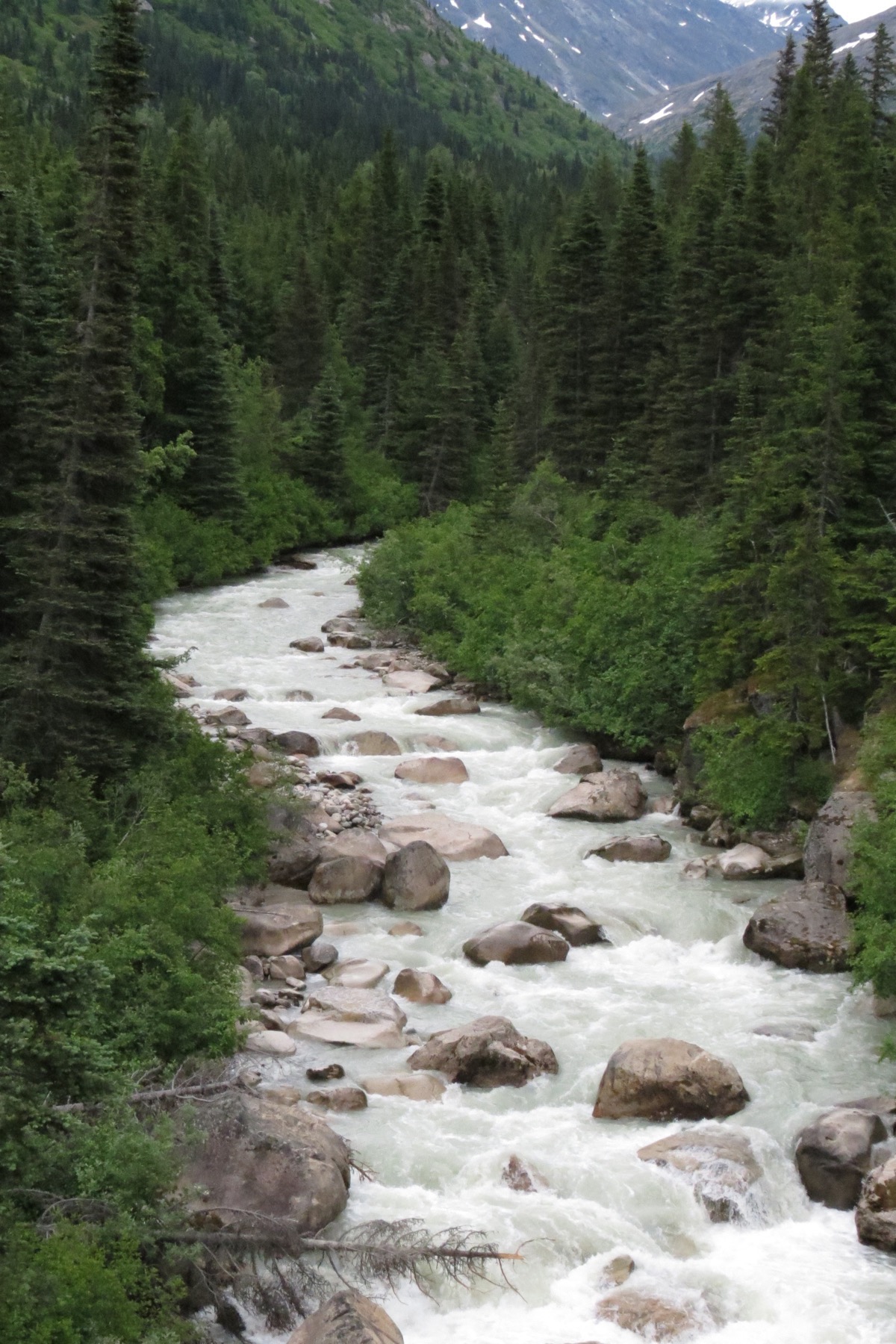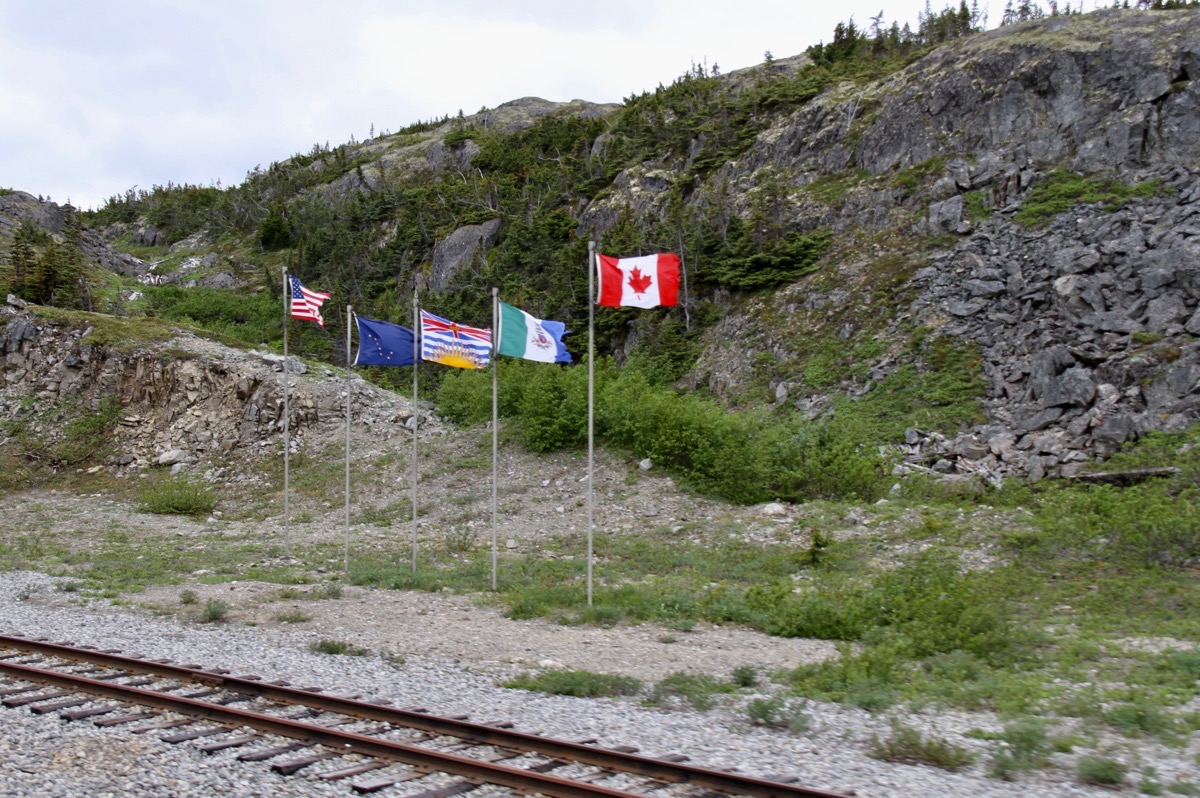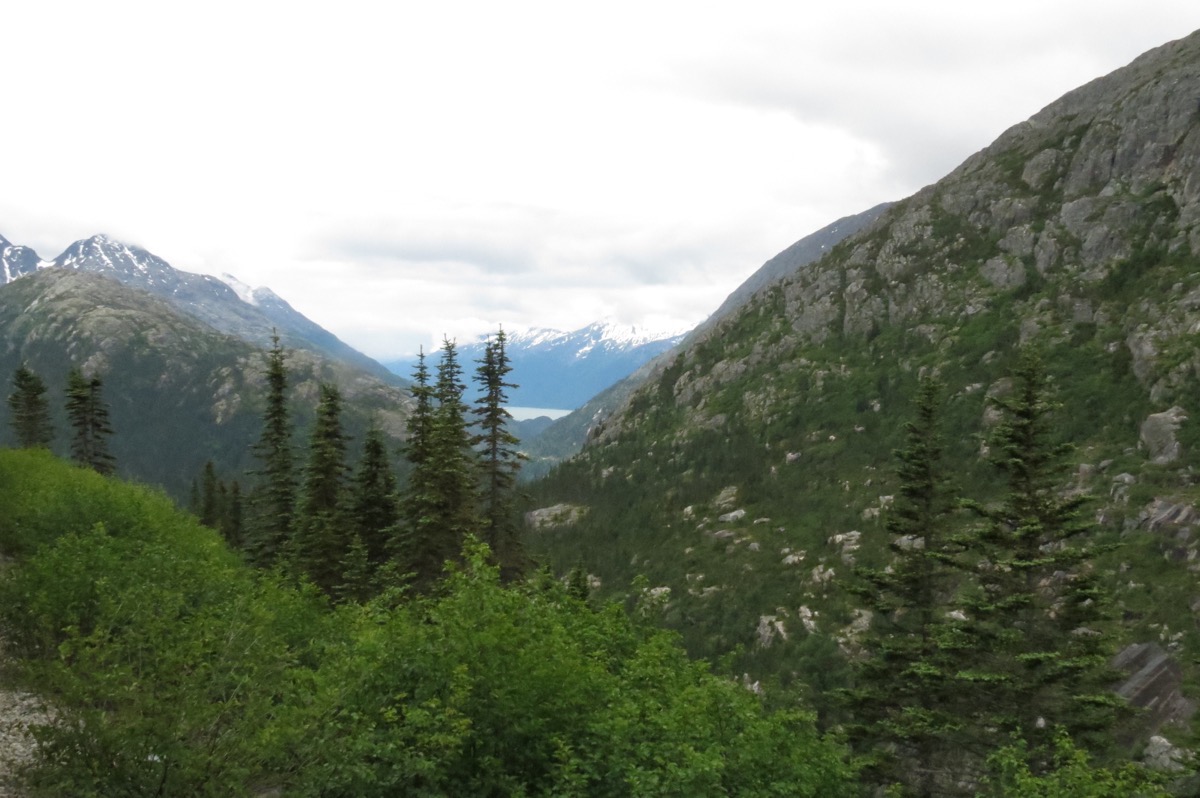 A view of the Pacific Ocean 20 miles away from Inspiration Point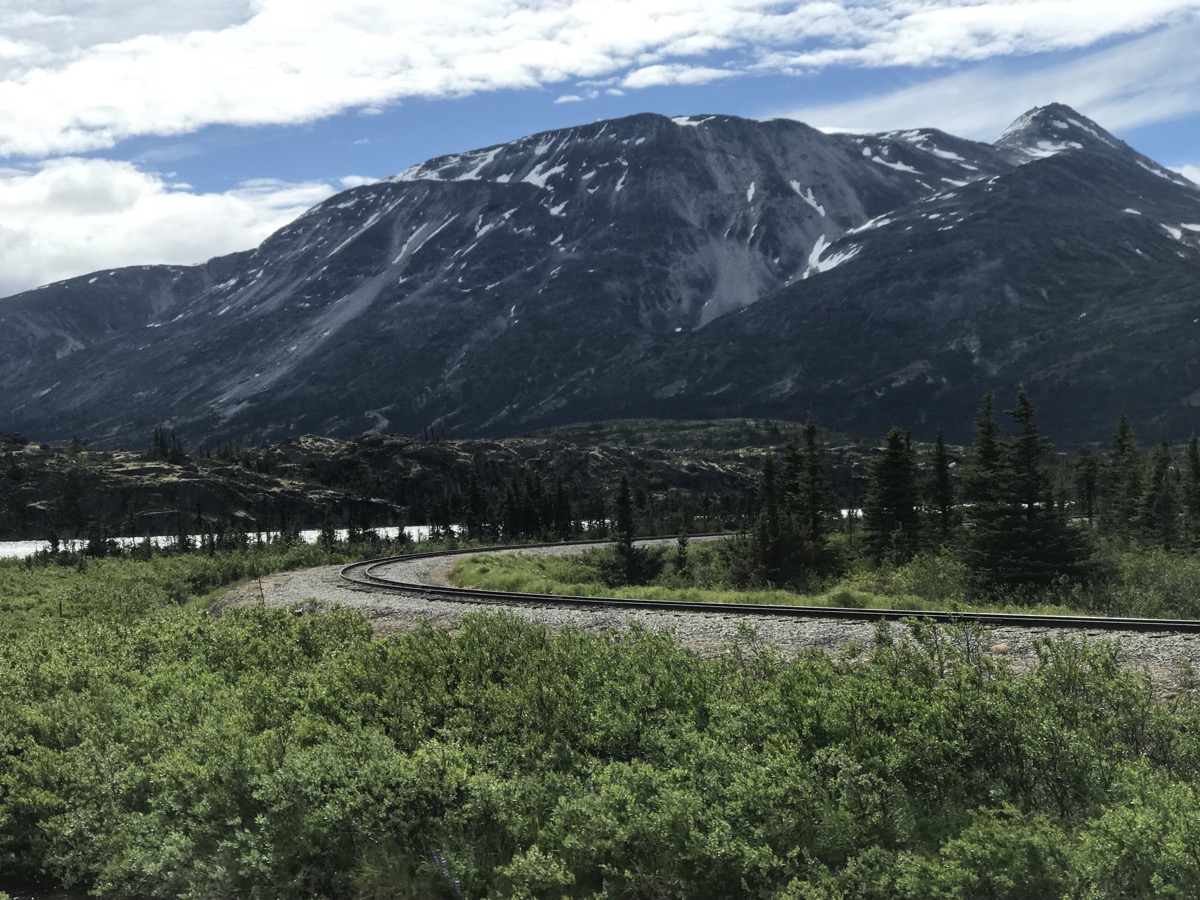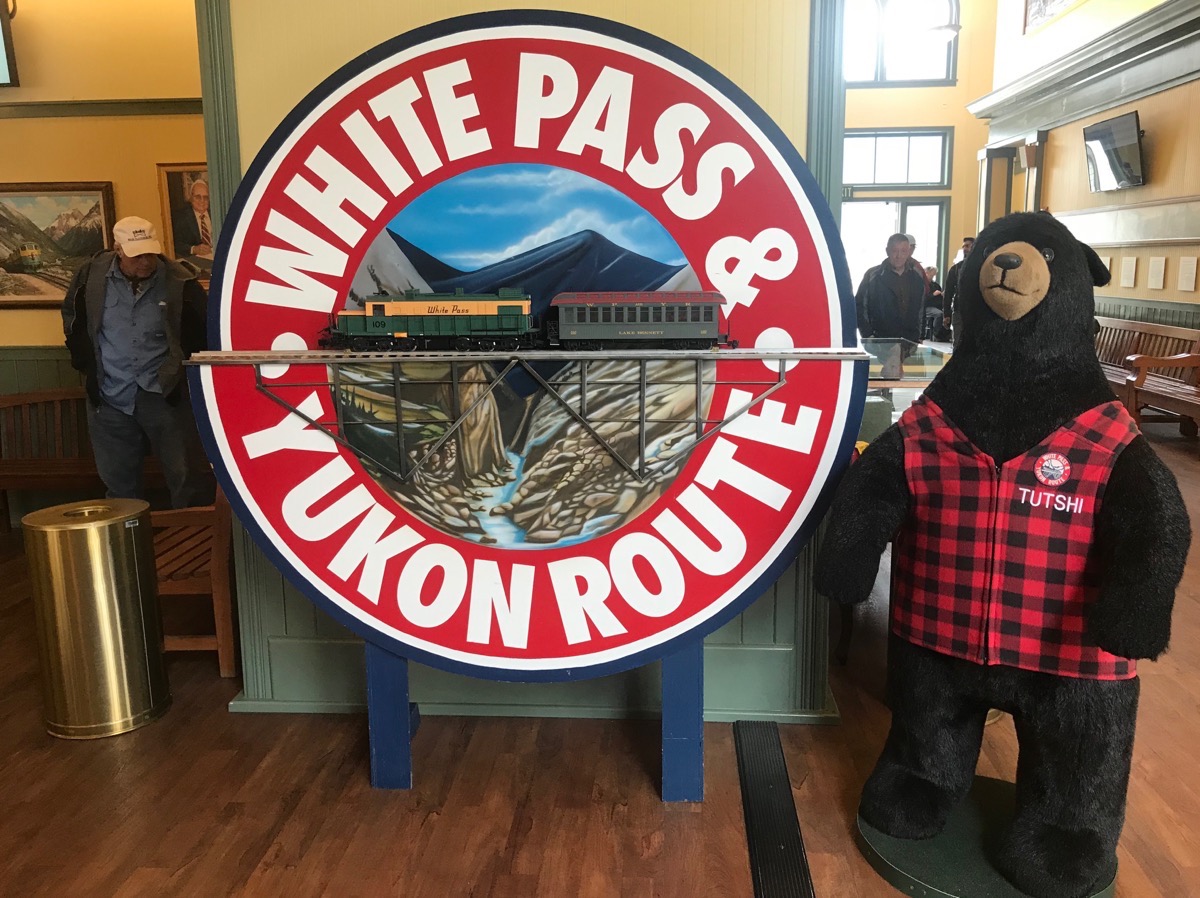 Skagway, Alaska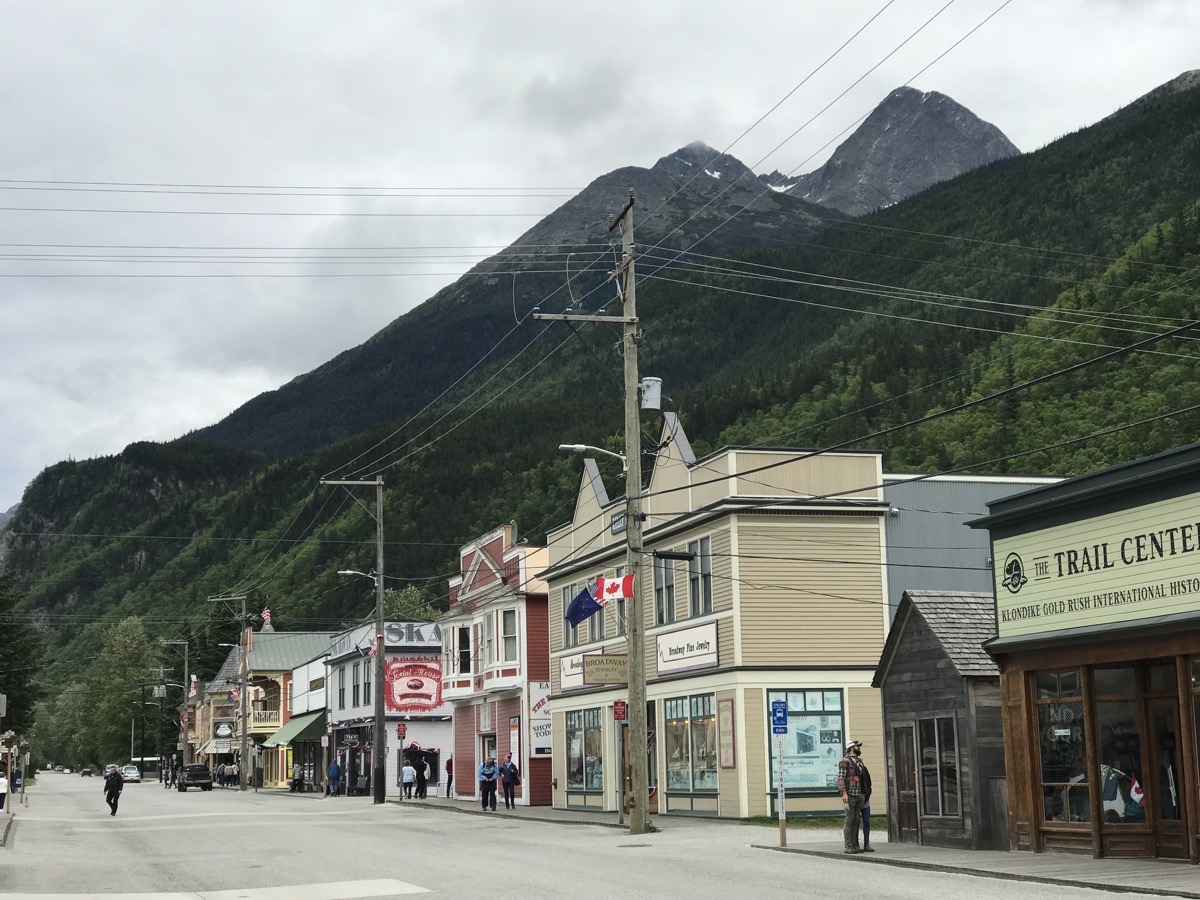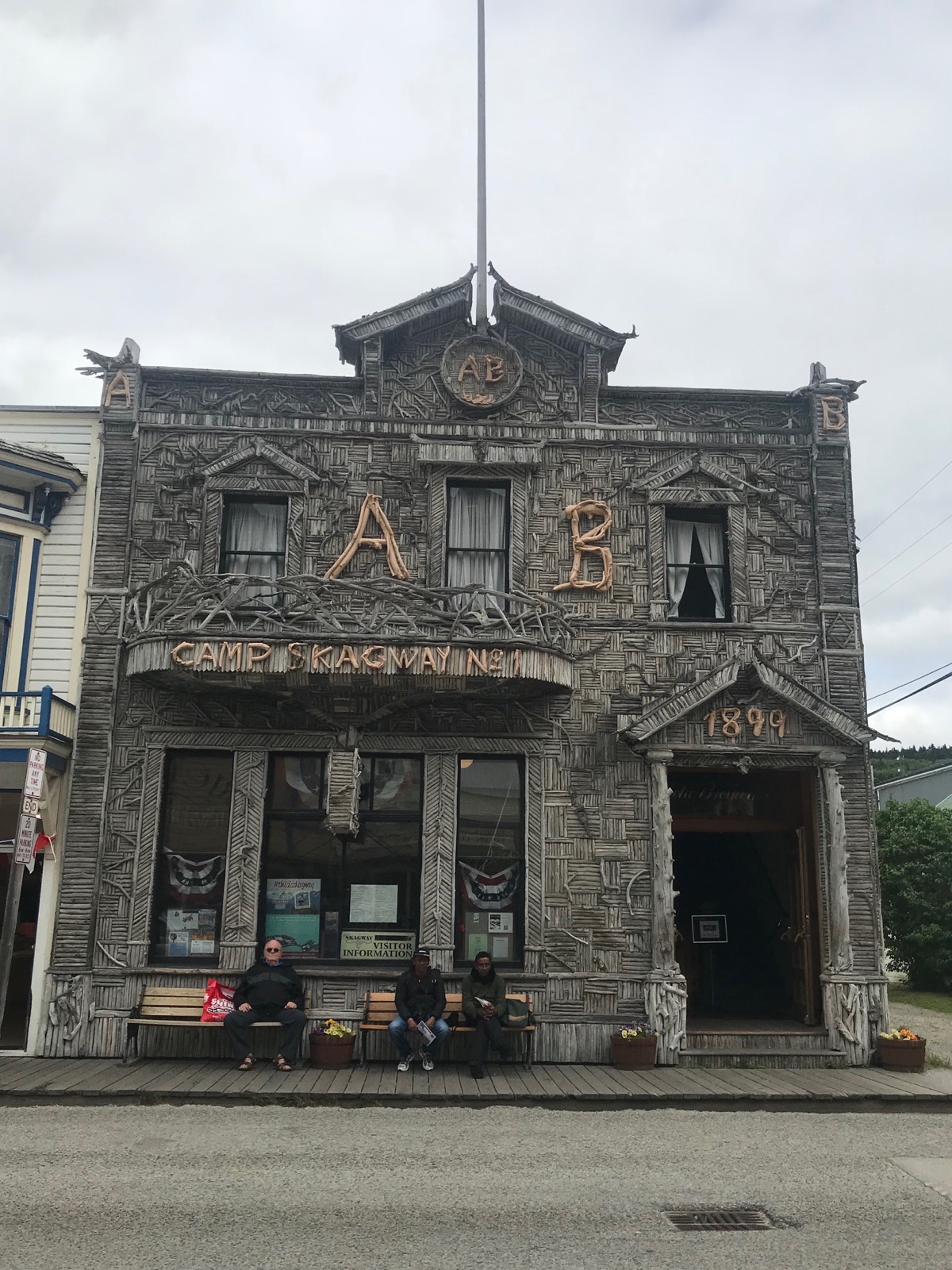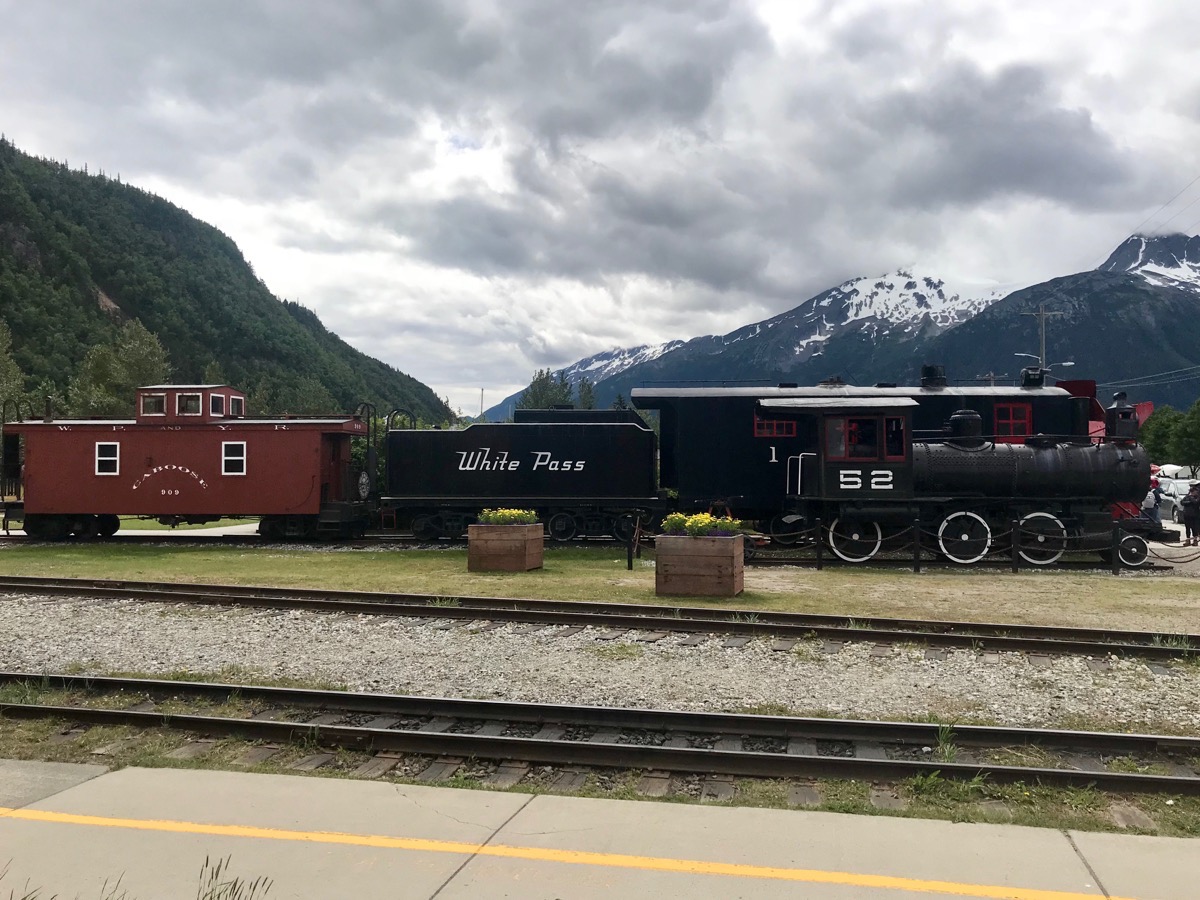 Trip Statistics


We are staying at the Hi Country RV Park $23.48 (USD), Total spent for lodging so far is $961.35 (USD) with an average of $28.98 per night
We didn't drive anywhere so our mileage remains at 5,335 miles.
Sunrise was at 4:34AM and sunset 11:31PM