Day 29 - Watson Lake, Yukon
We left Liard River Provincial Campground this morning around 10:00 and drove 129 miles to Fort Watson, Yukon.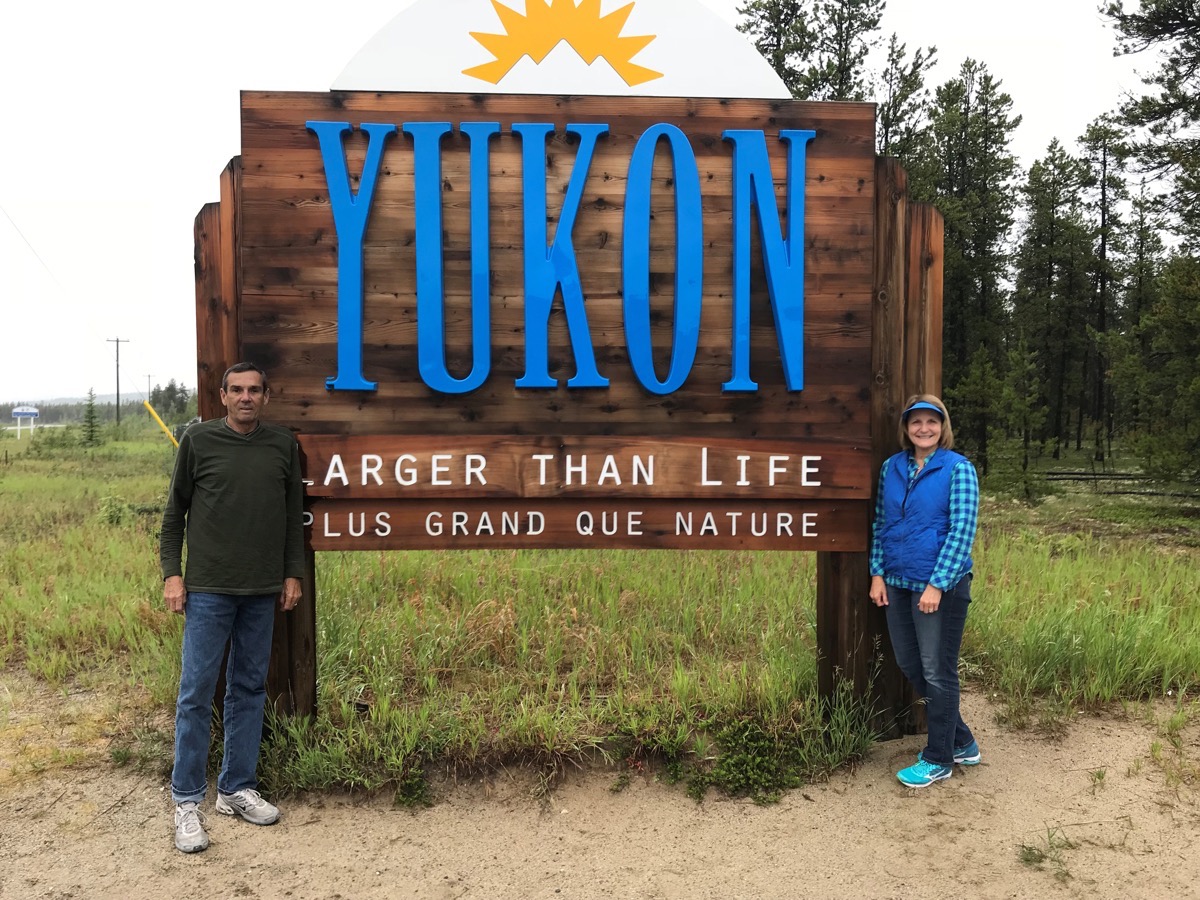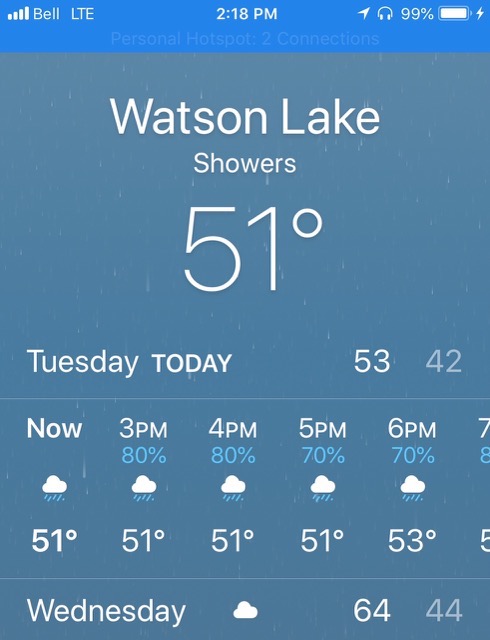 Even though it was raining and cold, we put on our raincoats and walked through town (which is only two blocks) and through the Sign Post Forest.
Sign Post Forest
The Sign Post Forest is Watson Lake's most famous attraction. Travelers from around the world have been bringing signposts from their hometowns to the Sign Post Forest since 1942 and continue to do so today.
The tradition began during the Alaska Highway Project in 1942, when U.S. soldier Carl K. Lindley spent time in Watson Lake recovering from an injury. A commanding officer asked him to repair and erect the directional signposts, and while completing the job, he added a sign that indicated the direction and mileage to his hometown of Danville, Illinois. Others followed suit, and the trend caught on. In 1990, a couple from Ohio added the 10,000th sign in the Signpost Forest. Today, there are over 85,000 signs in the Forest, and the number grows each year as visitors contribute signs and continue the tradition. We didn't bring one to add, but we did see some from both WV and LA.
The population of Watson Lake is 790–which must be at least doubled right now with all the RVs!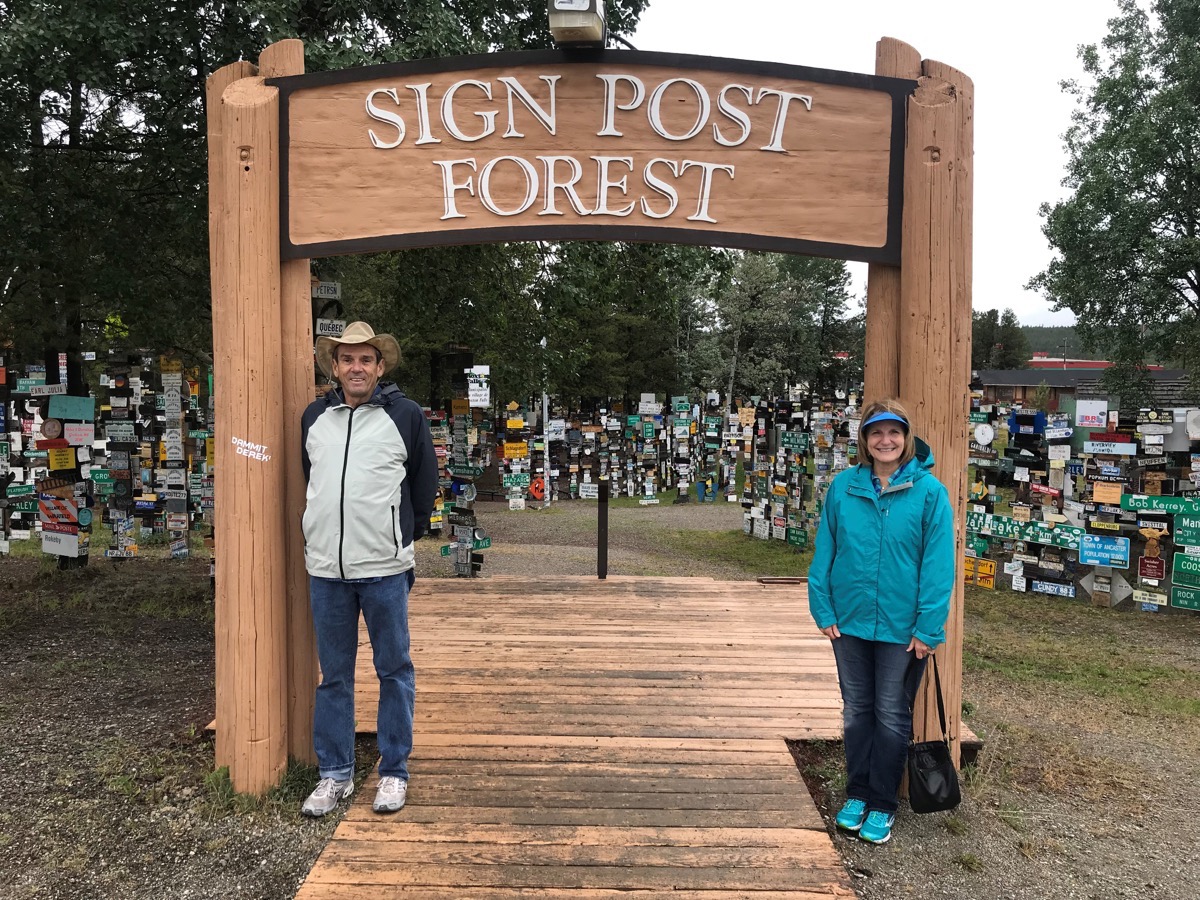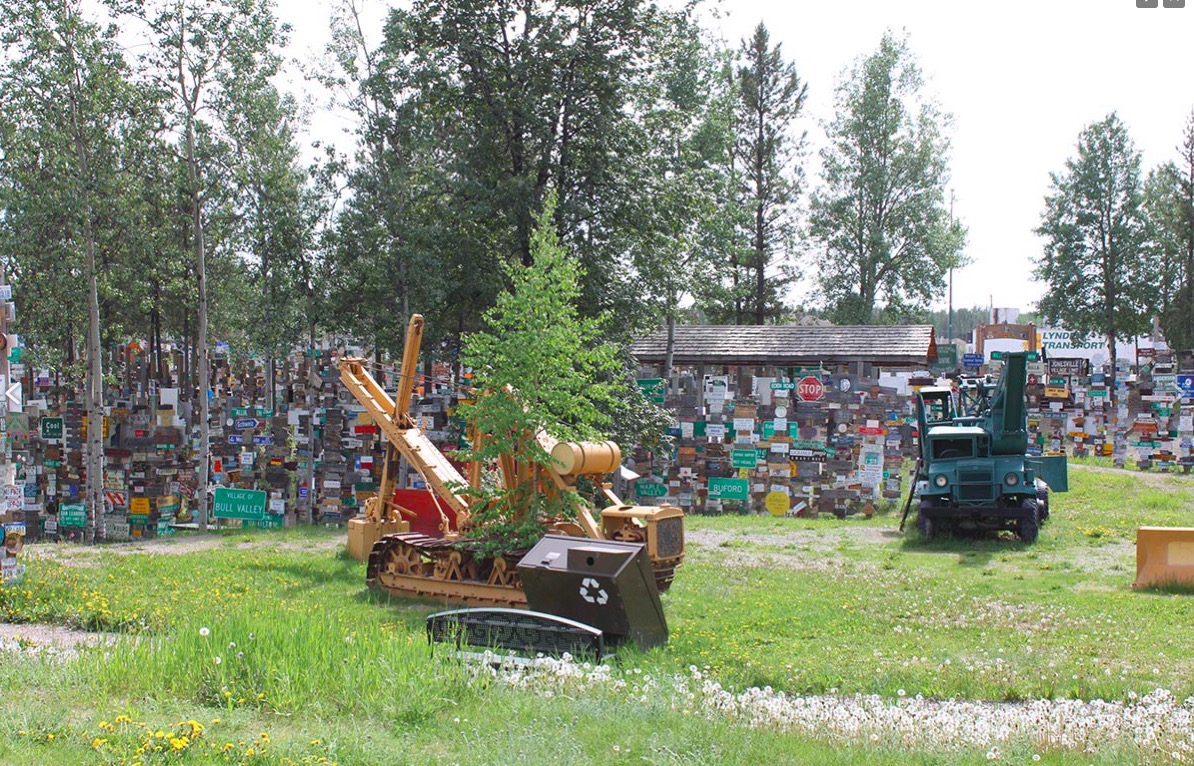 The equipment pictured was used to build the Alaska Highway in1942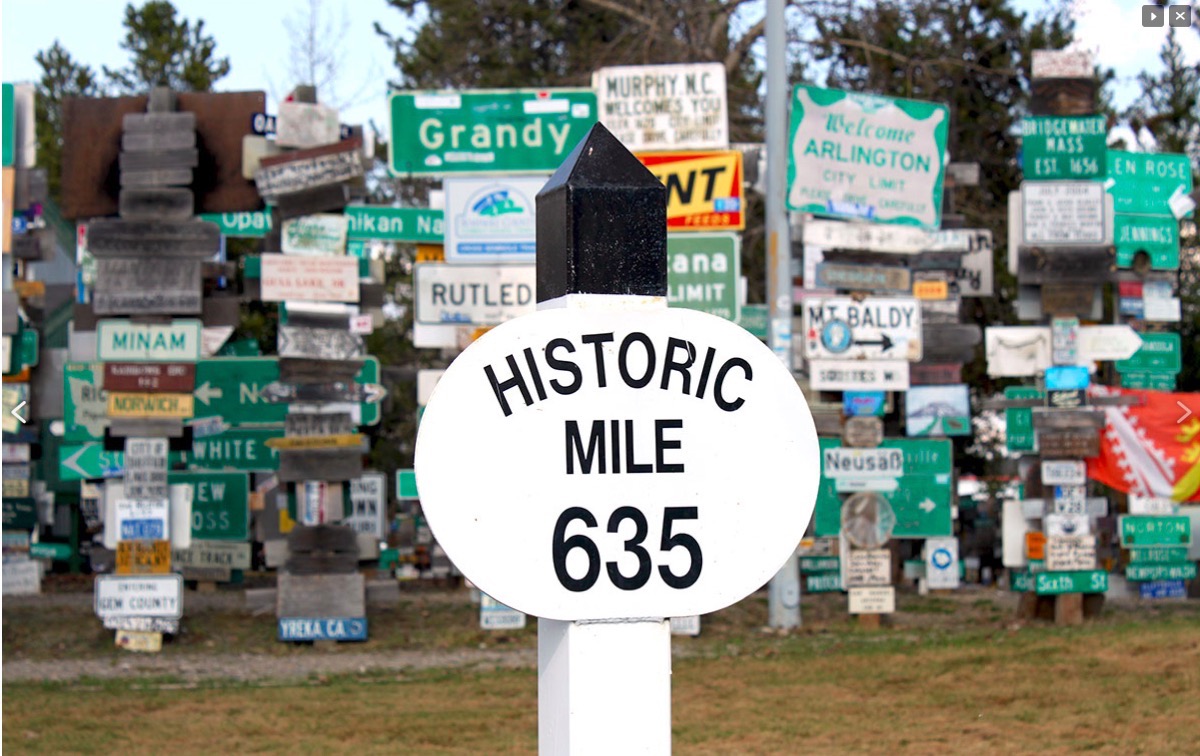 The original mileage for Walson Lake on the Alaska Highway before it was modernized and shortened
Completed in 1942 at a length of approximately 1,700 miles, as of 2012 it is 1,387 miles long. The difference in distance is due to constant reconstruction of the highway, which has rerouted and straightened out numerous sections.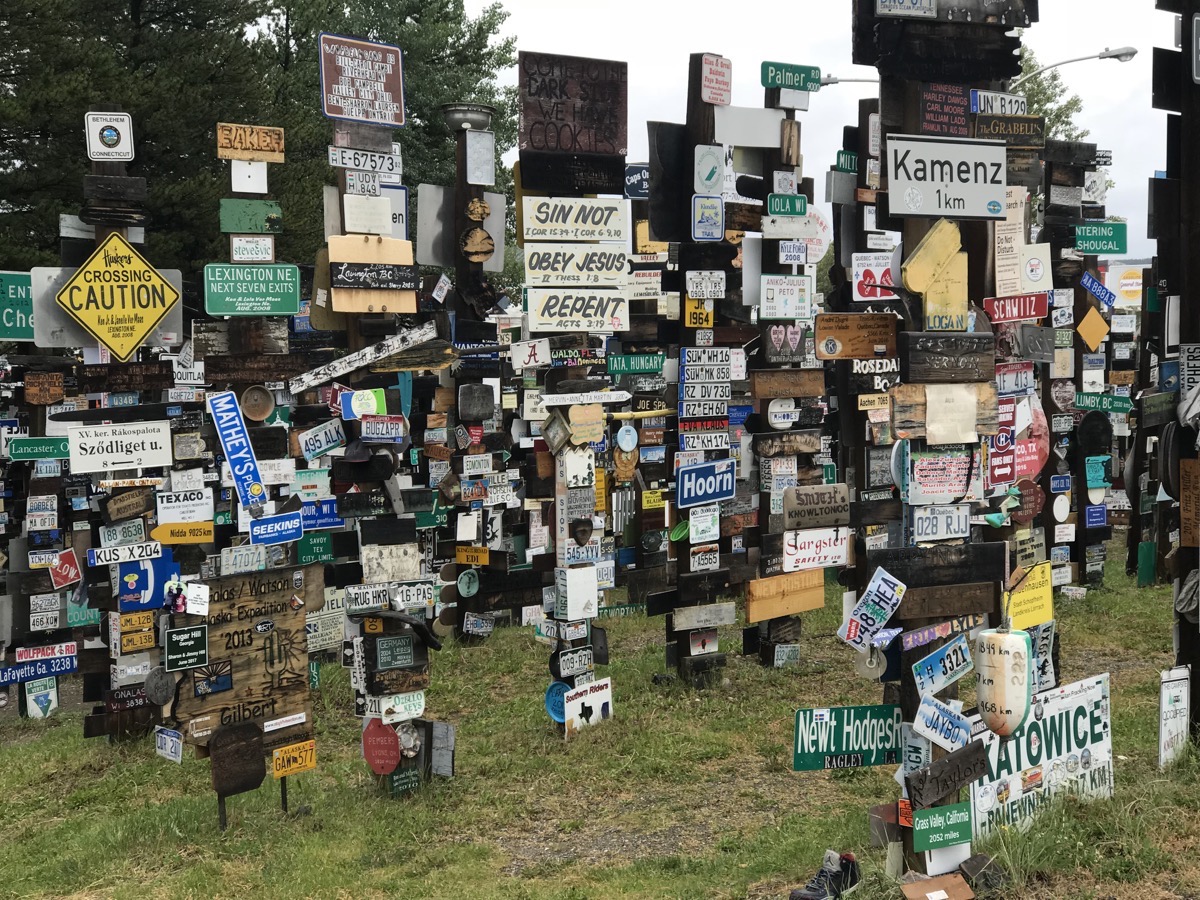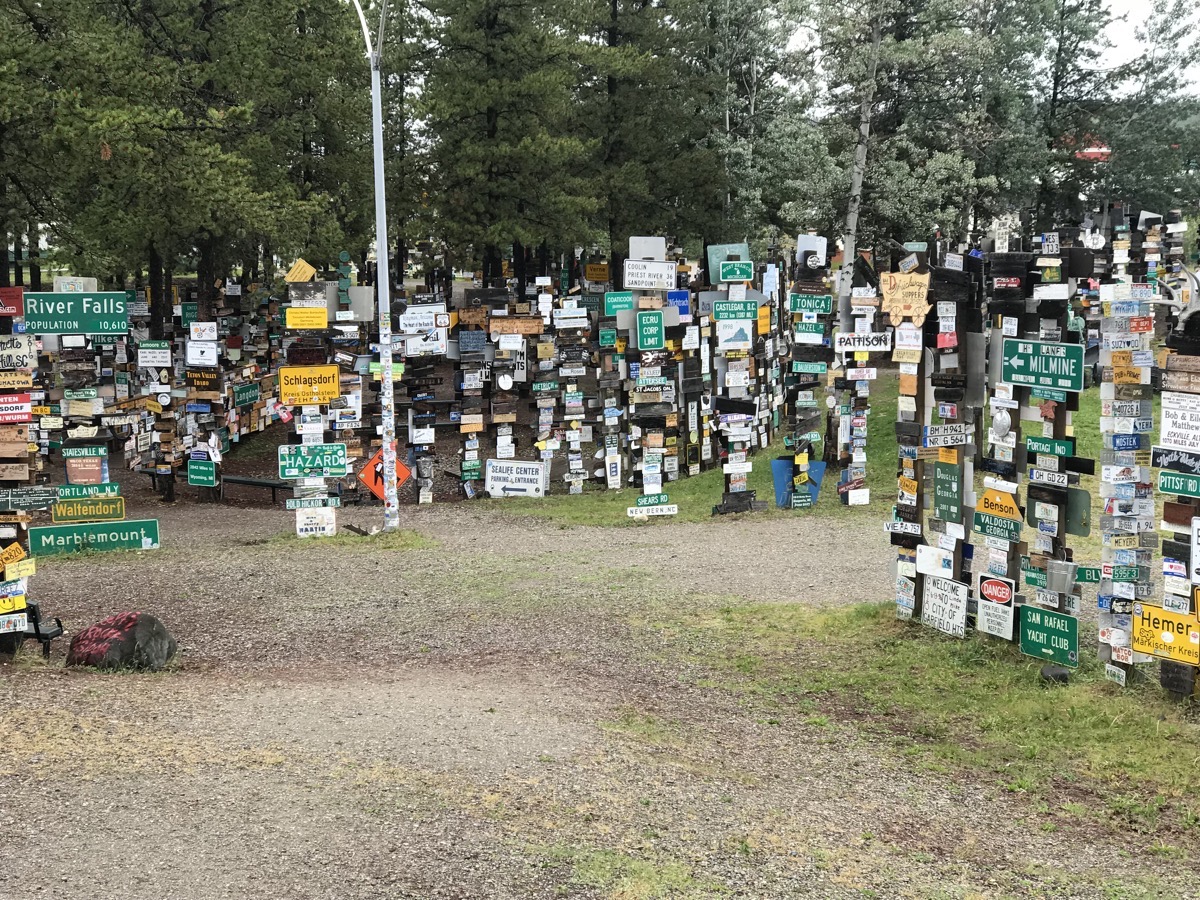 Although we didn't bring a sign to add to the collection, we did find signs from WV and LA!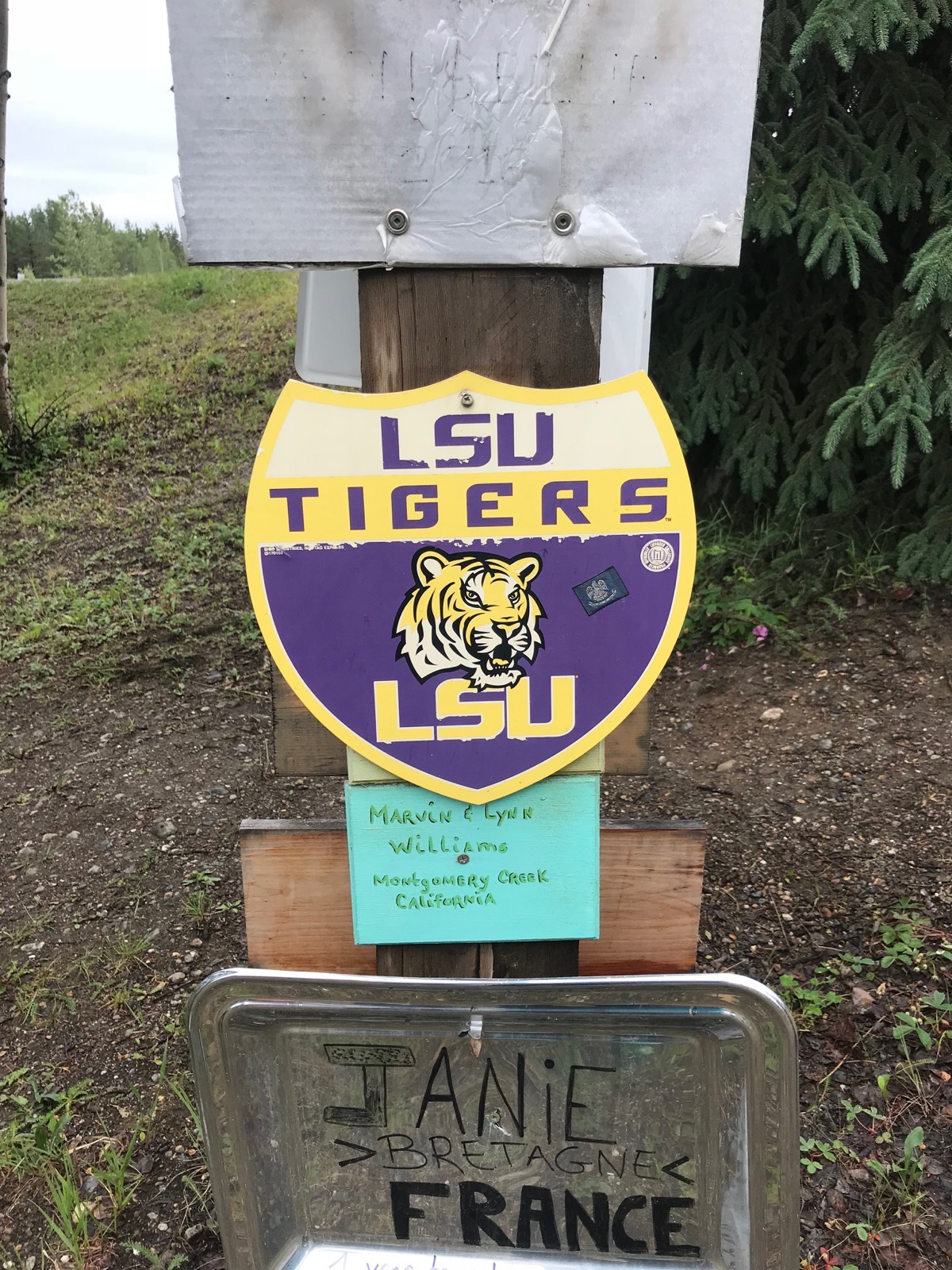 Go Tigers!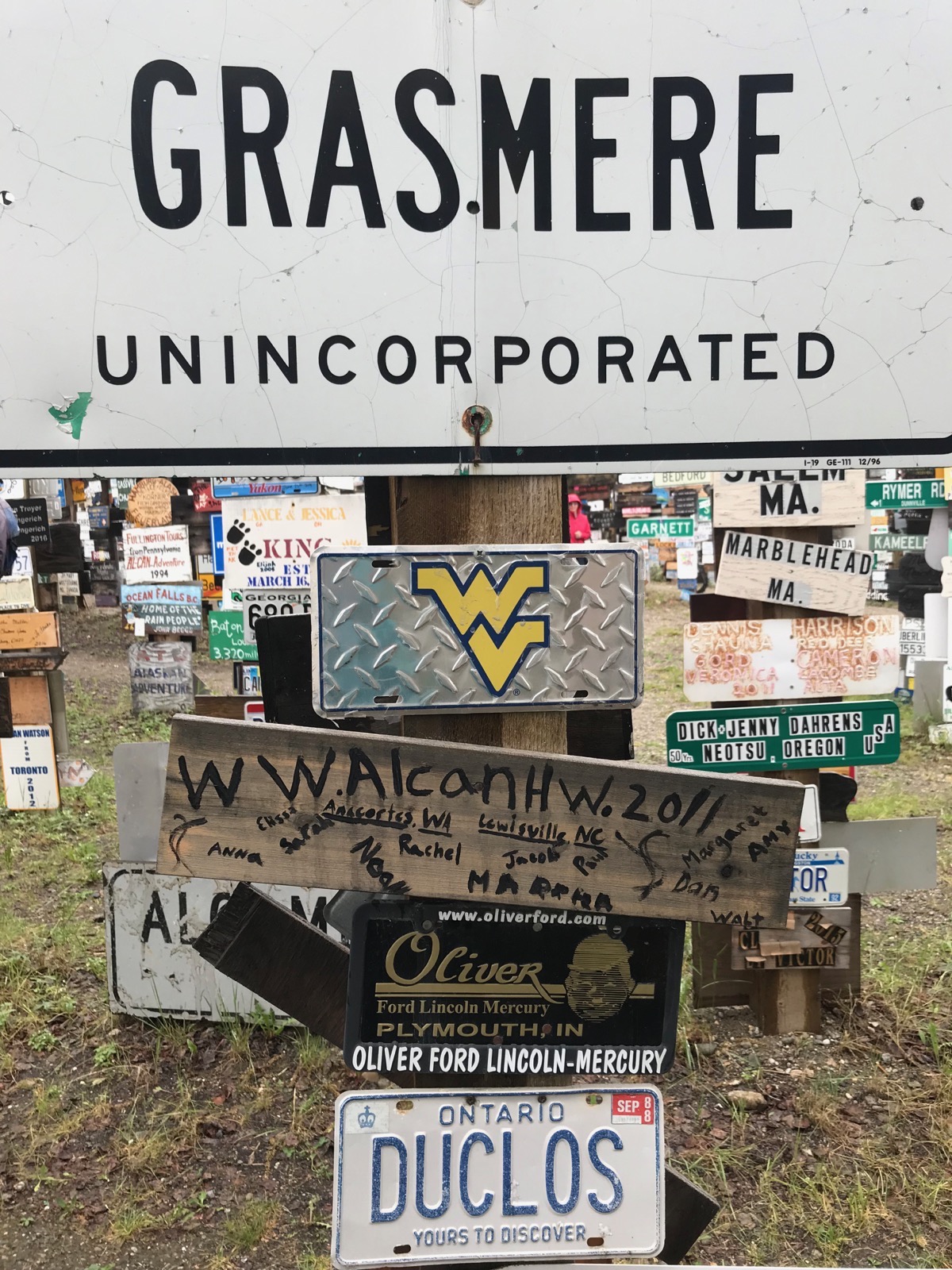 Let's go, Mountaineers!
Northern Lights Center
After lunch we walked over to the Northern Lights Center to watch a spectacular presentation on the amazing phenomena known as the 'Northern Lights' or 'Aurora Borealis'. This center has a state-of-the-art full dome video and surround-sound system that incorporate interactive displays that explain the science and folklore of the Northern Lights.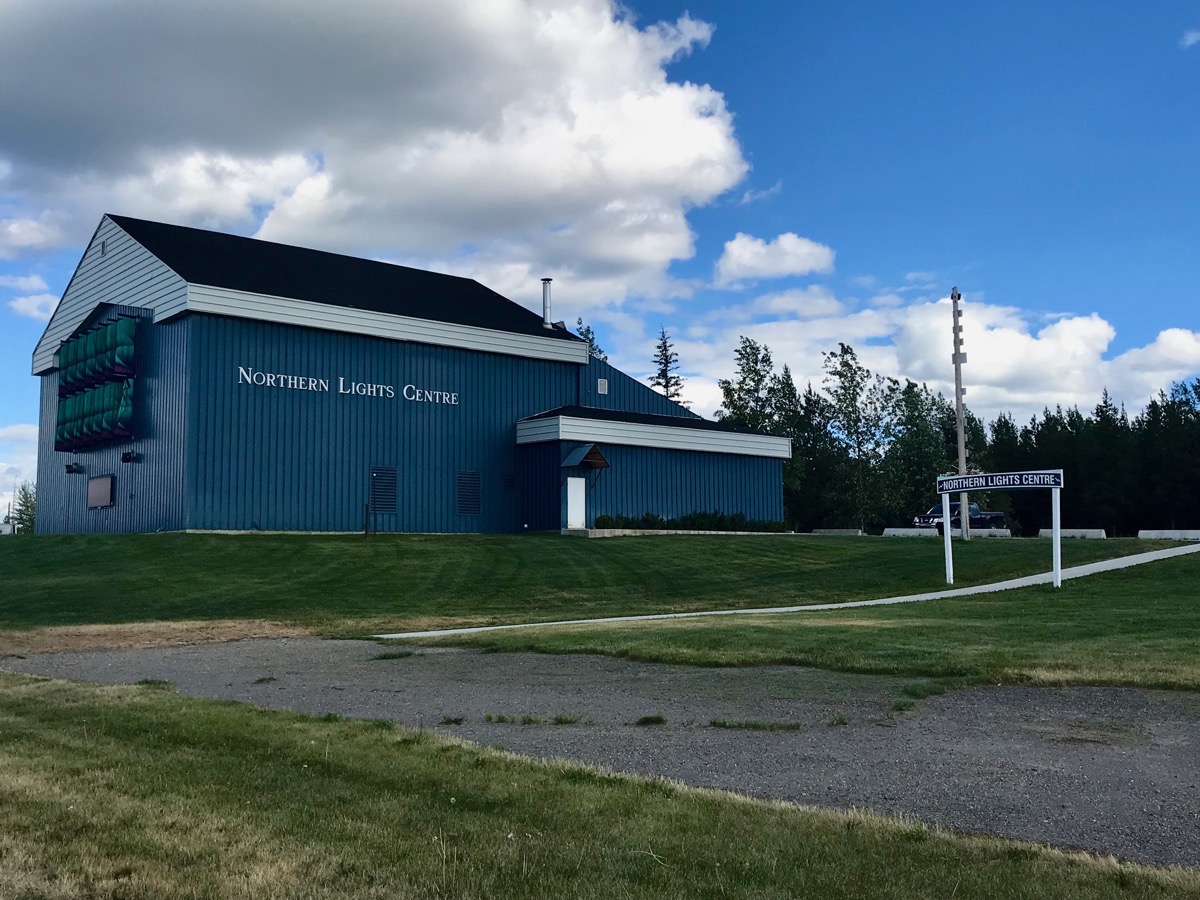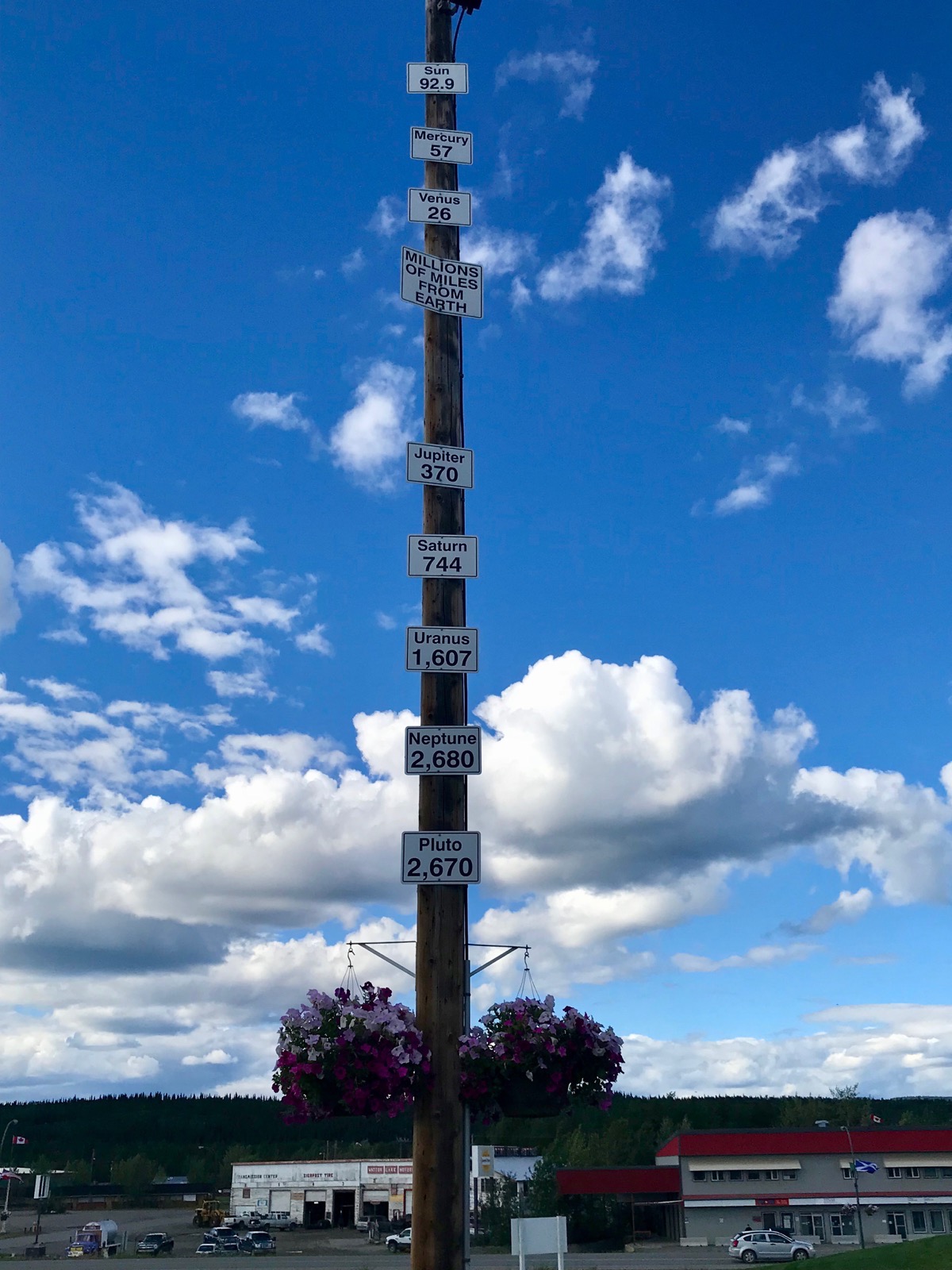 A signpost for the millions of miles each planet and the sun is from Earth.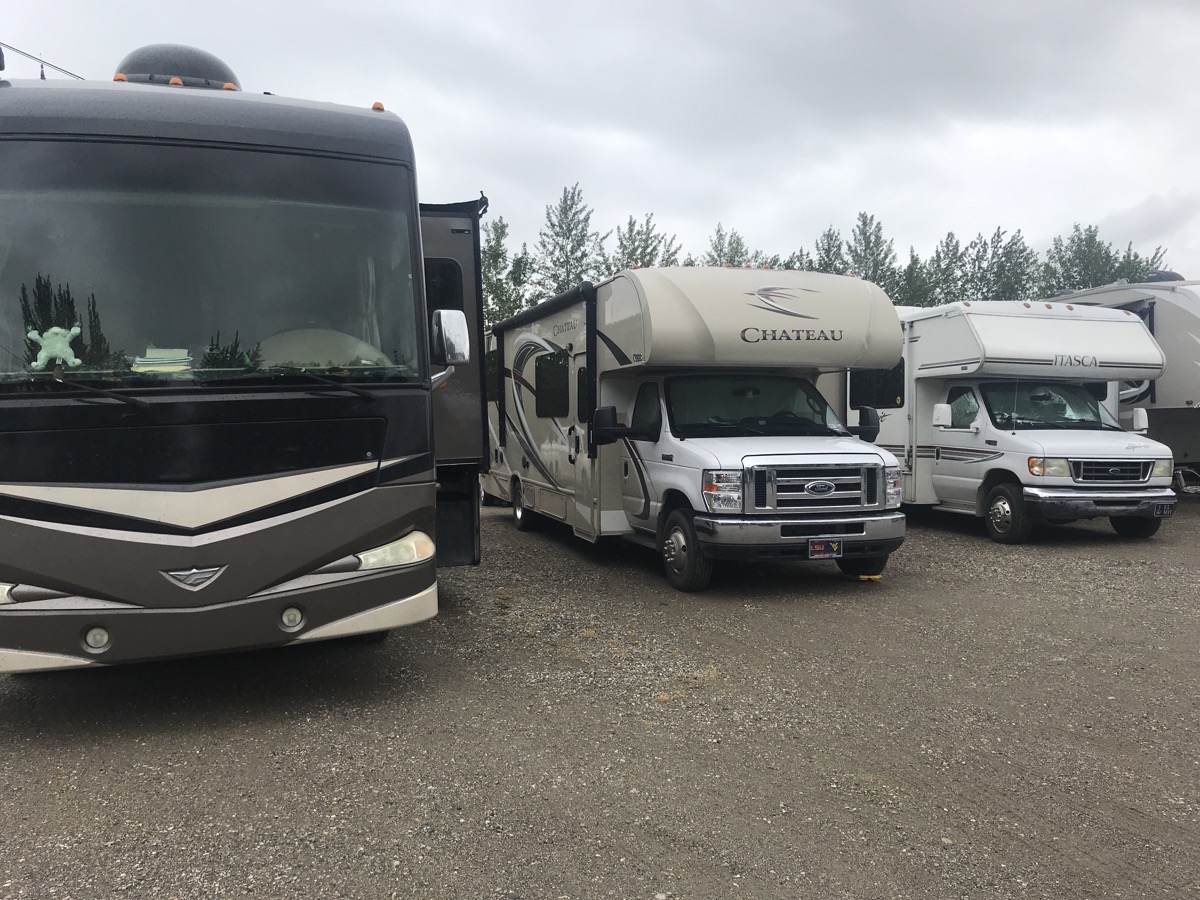 This is our home for tonight—a flat gravel lot with full utilities, but no ambience.
Trip Statistics
We drove 129 miles today in the motorhome for a total of 3,941 miles.  For the car and motorhome we topped the 5,000 mark with 5,024 miles.
We are staying at Downtown RV Park for $48.50 CAN ($36.86 USD)