Day 15 - Gardiner, MT to Wallace, Idaho
This morning I went to the car wash to finish getting the dirt off the bikes that we acquired yesterday in Yellowstone, and then we hooked up and left at 9:30. The air pressure was low in one of the motorhome tires, so we had to get air once we got to the interstate. Our drive today was 396 miles and although all of it was on I-90, we drove long stretches without seeing anything other than beautiful scenery.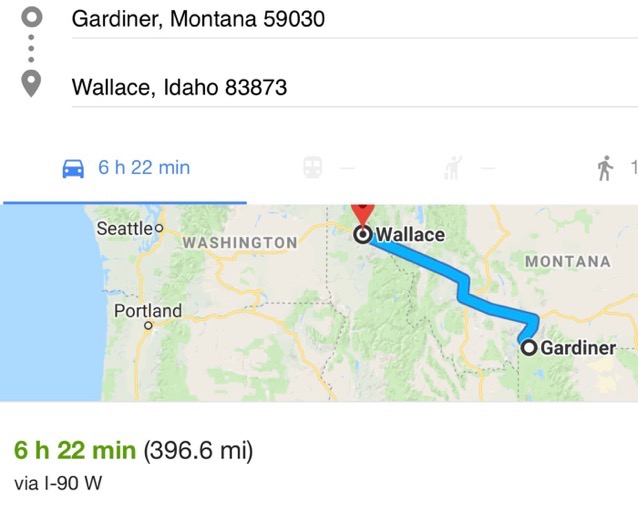 Our only stop was to take a short break near the Montana/Idaho border at the "World Famous" $50,000 Silver Bar that advertised having 50,000 silver dollars.I guess it's another draw like Wall Drug was in South Dakota , but it doesn't look like this place has the same sort of business.  
The infamous Silver Dollar Western Bar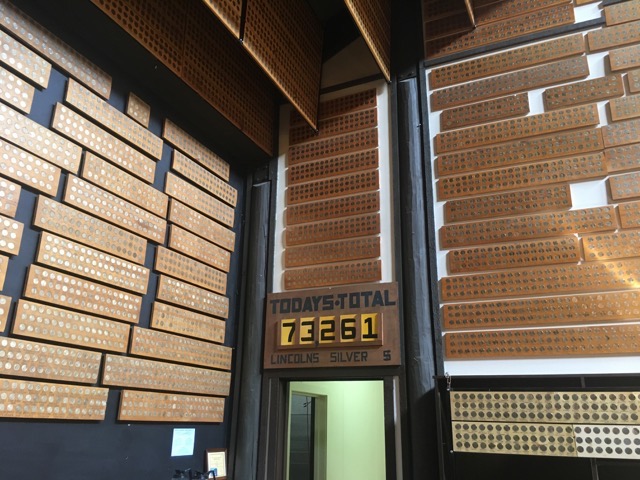 When we got there, the new posted total of silver dollars on the wall was $73,261.  With the cost of silver being $16 an ounce (28.35 grams) , an approximate weight of a silver dollar is 26 grams, 90% of which is silver, this place has silver dollars worth $967,510!!!!!!  —Seems like they would find something better to do with their money.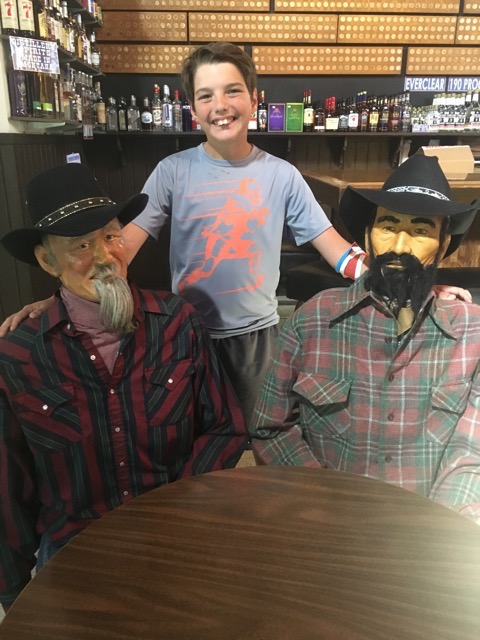 Ben posing with the "men" in the bar!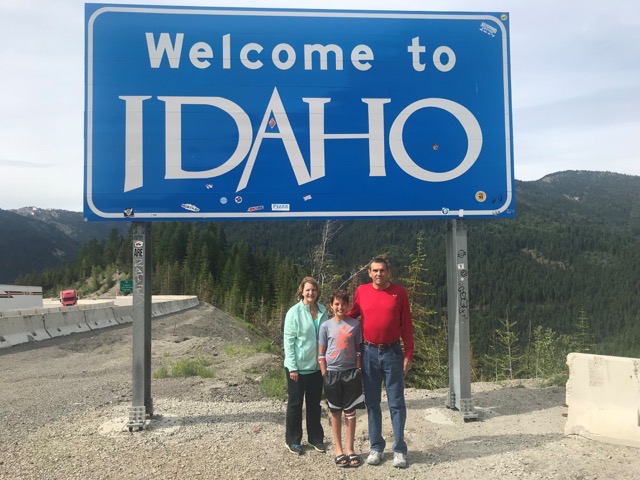 16 miles later we crossed the line into Idaho!
Wallace, Idaho
Wallace was once the principal town of the Coeur d'Alene silver-mining district, which produced more silver than any other mining district in the United States.  As of the 2010 census Wallace now has a population of 784.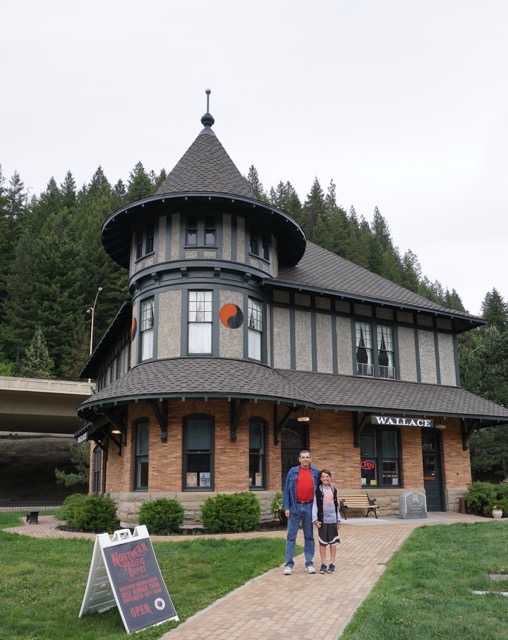 It is a popular destination for tourists who are riding the Trail of the Hiawatha which starts near here—also why we are here.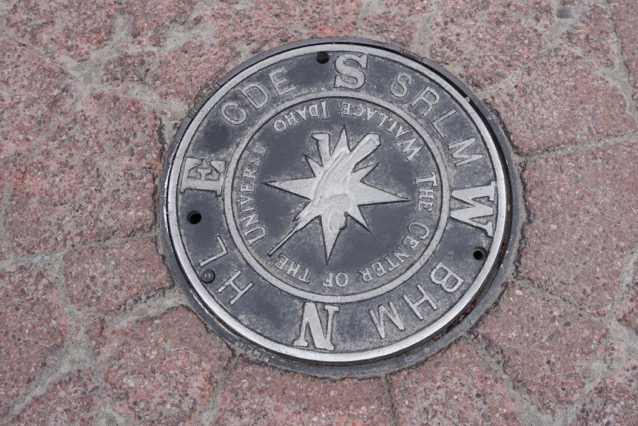 It has also declared itself "The Center of the Universe."  The sewer cover in the middle of the street says it all!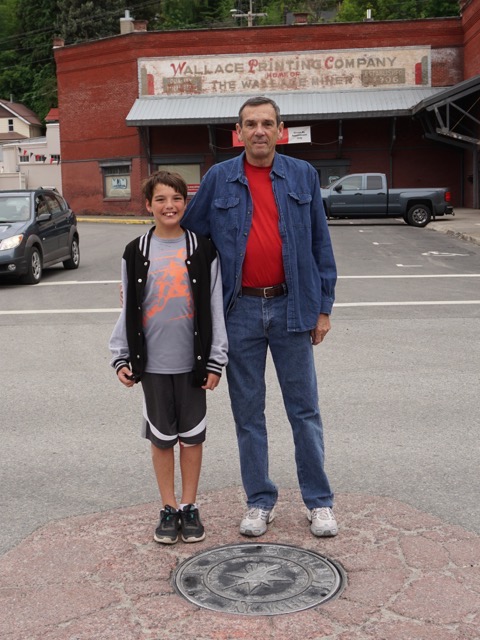 Tom and Ben standing in the middle of the road for a photo opportunity .  There is very little traffic in this town.
Ben - The Center of the Universe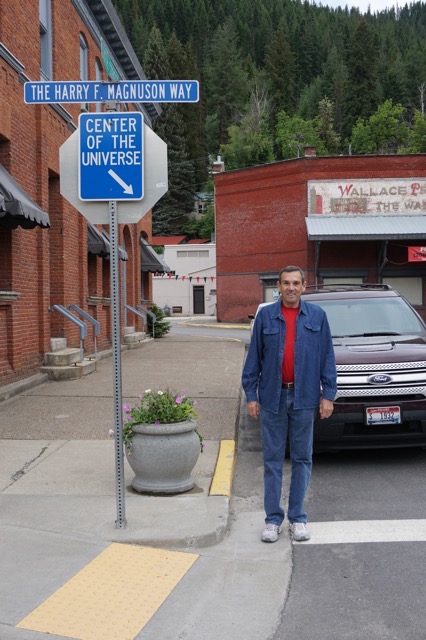 Tom - the Center of the Universe for the second time in two years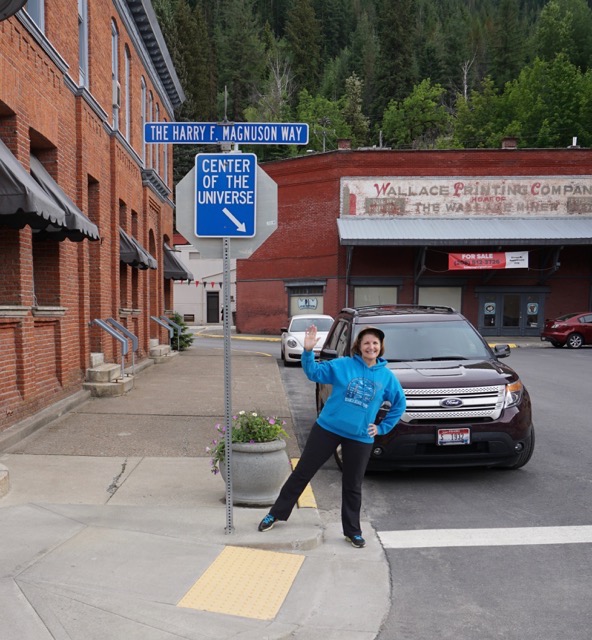 We've been on the road two weeks now.  We've driven 2,360 in the motorhome plus 670 miles in the car.